The Sweet Story of Mio Gelato and Churn Small Batch Ice Cream
Whether you're out on a sunny day in downtown Kingston, enjoying the sights, or cozied up on the couch with a pint of your favourite frozen delight watching your favourite show, one thing's for certain – Mio Gelato and Churn Small Batch Ice Cream are there to elevate your experience and bring pure enjoyment!
These sister companies have woven their frozen delights into the fabric of downtown Kingston's dessert scene, so get ready to join me on a journey as I dive into the sweet story of how two delightful destinations are redefining frozen indulgence, one scoop at a time!
The Creative Force Behind the Magic
Owned by the visionary Roz Bechtel and Richard Polk, Mio Gelato and Churn Small Batch Ice Cream are more than just places to grab a sweet treat – they're a testament to the power of creativity, passion and community. This dynamic duo has been sprinkling magic across downtown Kingston with their creations since 2010. And here's a fun fact: it took only six weeks of preparation to open the doors of Mio Gelato!  
Though the real magic happens when I introduce you to the innovative Operations Manager, Erin Allen. She's the wizard behind the curtain, who keeps both Mio Gelato and Churn brimming with excitement, fresh ideas, and tantalizing flavour collections. Her energy and drive are inspiring, and it's no surprise that the gelato and ice cream creations bear the mark of her creativity, as well as her staff. With her passion for community events and collaborations such as Mackinnon Brothers Brewery's Back to the Farm festival and the Skeleton Park Arts Festival, Erin has turned Mio Gelato and Churn Small Batch Ice Cream into not just shops but hubs of joy and imagination.
Erin's journey began in the most Kingston way possible, a twist of fate in 2013 that led her to the doors of Mio Gelato. Erin seized the opportunity and dove into the world of frozen confections headfirst. Little did she know that this chance encounter would shape her career and bring so much joy to Kingston's dessert scene. Her enthusiasm, vision, and drive for ingenuity are the secret ingredients that infuse both Mio Gelato and Churn with delight.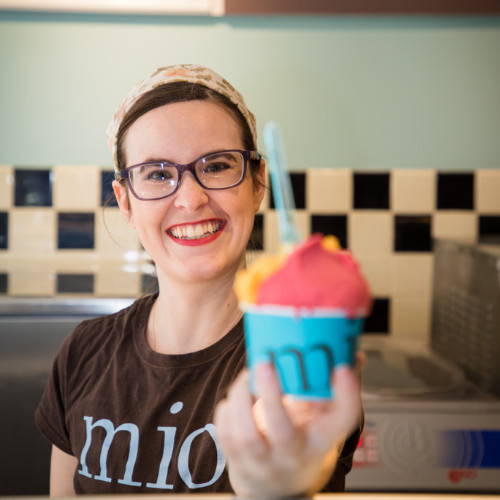 Crafting Frozen Dreams: Introducing Mio Gelato
Locally owned and operated since its inception in 2010, Mio Gelato is the place to experience authentic Italian gelato, sorbetto, ice cream, and frozen yogurt. From classic flavours like strawberry, chocolate pudding, and mango to inventive combinations keep patrons coming back for more.  
As Mio Gelato burst at the seams with its popularity and demand for the product, something sweet was brewing behind the scenes in and around the time of the pandemic. The team acquired a factory building in Kingston's east end to ramp up production capacity in 2021. The demand was a testament to the love that Kingstonians had for these frozen treats - and the result was nothing short of magical.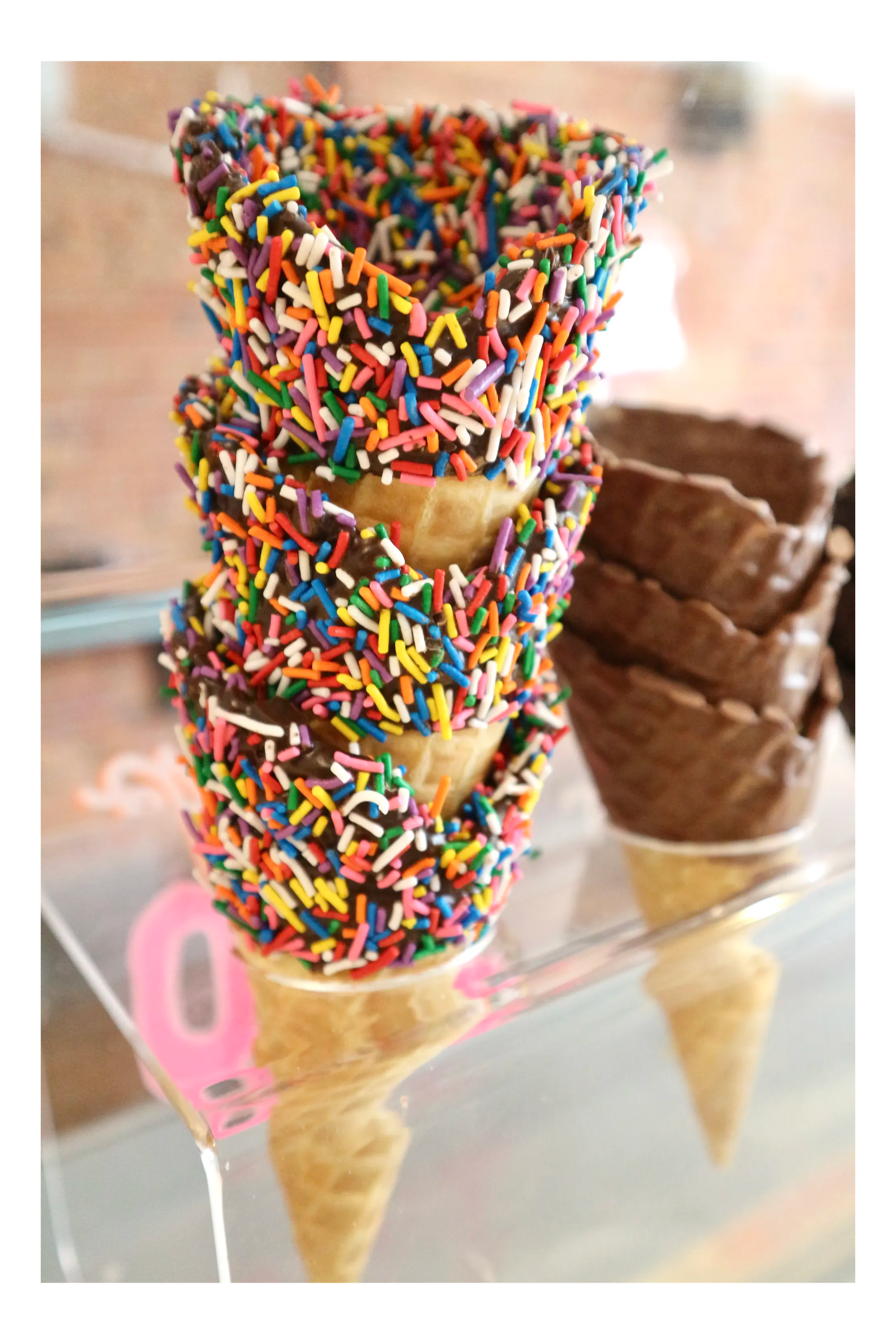 How Churn Small Batch Ice Cream Came to Be
The stage was set for a new chapter – the unveiling of Churn Small Batch Ice Cream in May 2022, offering traditional favourites with a whimsical twist. The brainchild of Erin and her team, Churn isn't just another ice cream parlour – it offers a playground of flavours that tickle the taste buds and evoke childhood memories.
At Churn, visitors can order themed cones with an array of toppings that range from the enchanting unicorn to the dreamy cloud, the mystical mermaid, and even the cosmic rocket blast. It's a playground of imagination. And the best part? This enchanting adventure isn't just for the young – it's a fun experience that brings smiles to both the young and the young at heart, proving that the magic of Churn knows no age limits!
So, the next time you find yourself in Kingston, be sure to pay a visit to Mio Gelato and Churn Small Batch Ice Cream in downtown Kingston for a cone, cup or container to take home!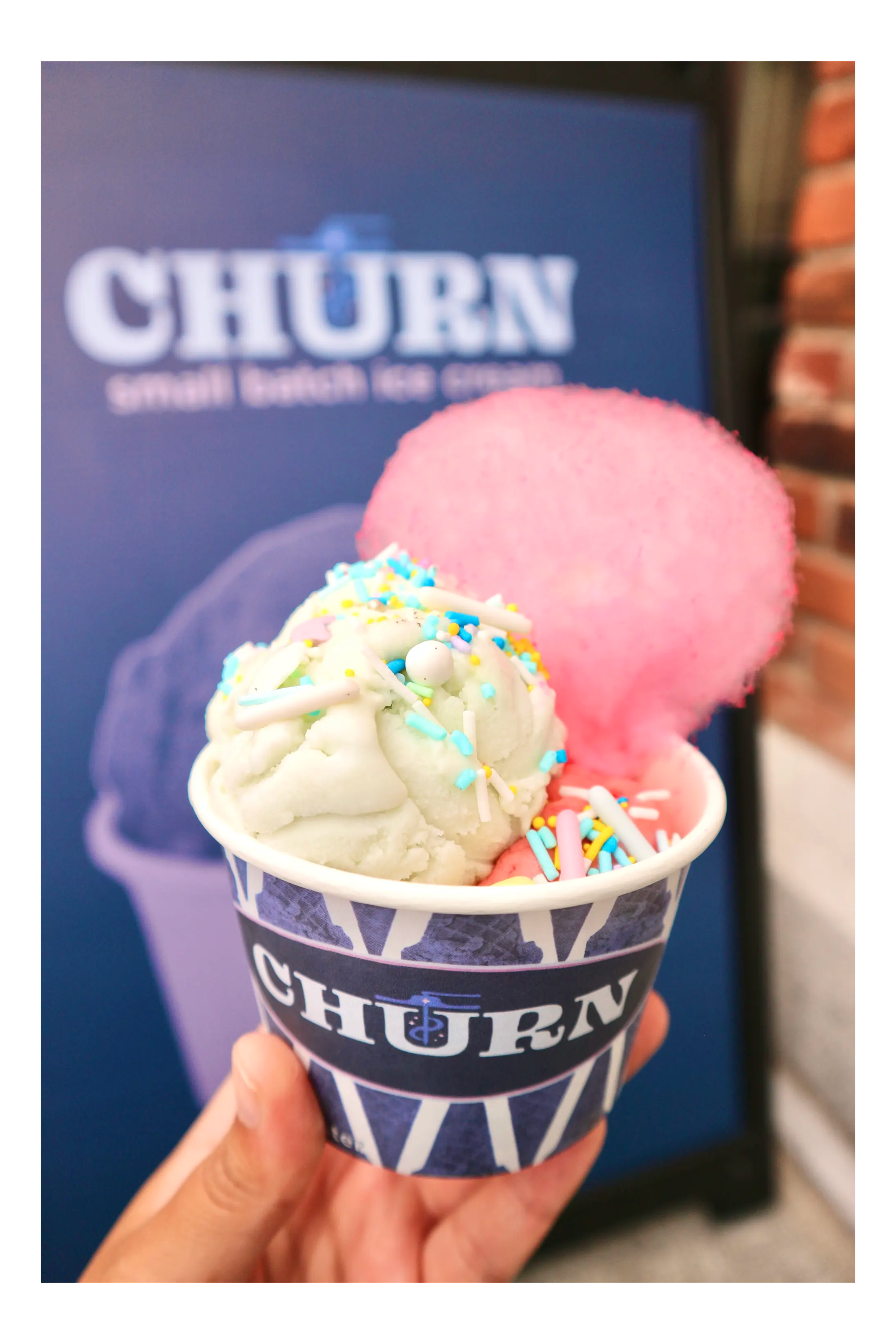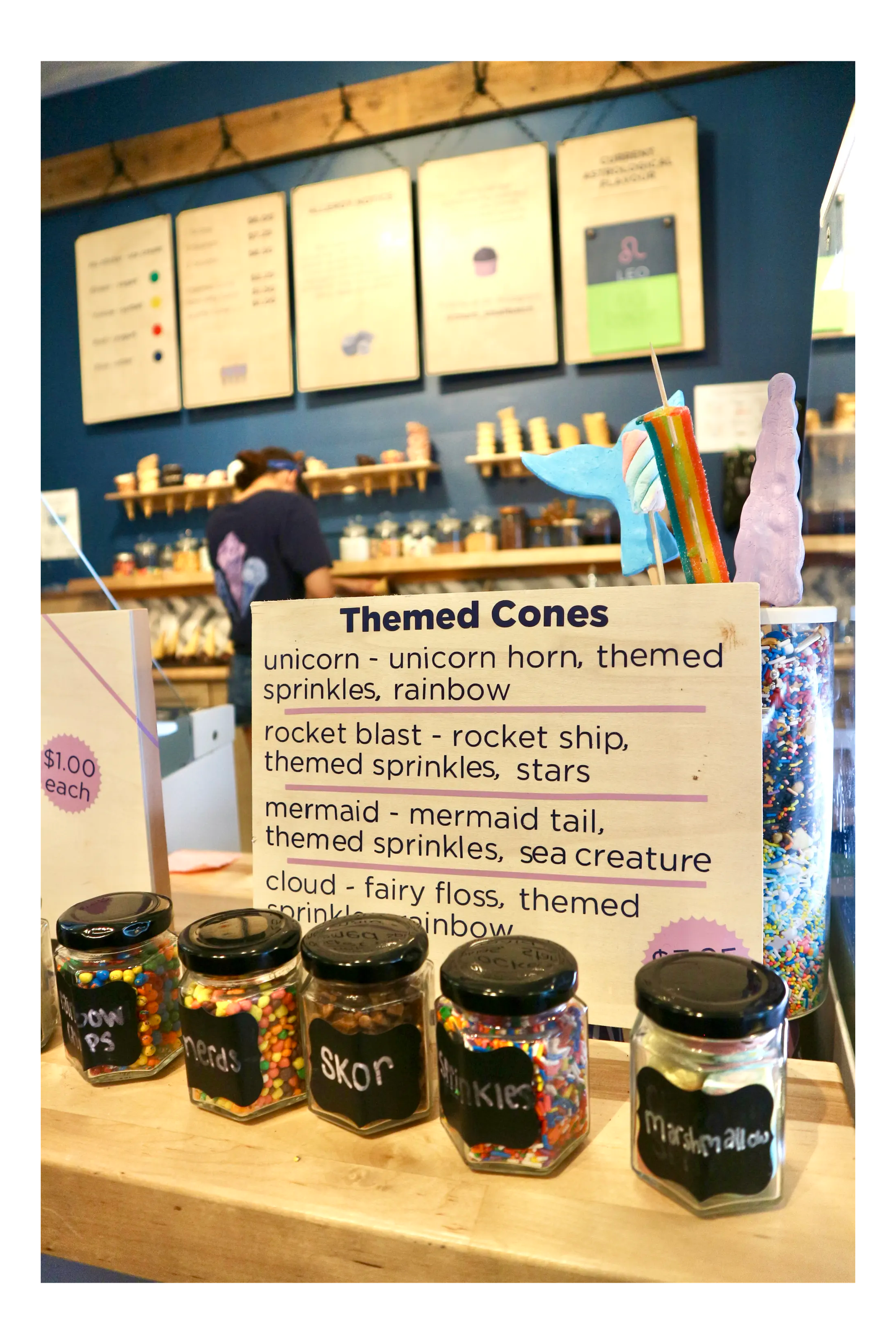 Erin's personal favourites are a testament to her adventurous palate and creative spirit. From the creamy and classic delights of Classic Pistachio and Amaretto at Mio Gelato to the playful Dunkaroos and Cosmic Brownies at Churn.
Each scoop is a celebration of taste, nostalgia, and innovation.
Favourite Local Spots
When Erin isn't busy conjuring up frozen fantasies at Mio Gelato and Churn Small Batch Ice Cream, you can catch her exploring the vibrant heart of downtown Kingston. Her favourite spots read like a love letter to the city's eclectic charm. From kickstarting her day at Northside Espresso + Kitchen to indulging in the wonderful offerings of Pan Chancho Bakery & Café, Erin knows how to treat her taste buds. Olivea's Italian delights, the delicious tapas of Tango Nuevo, and the treasure trove of YGK Thrift.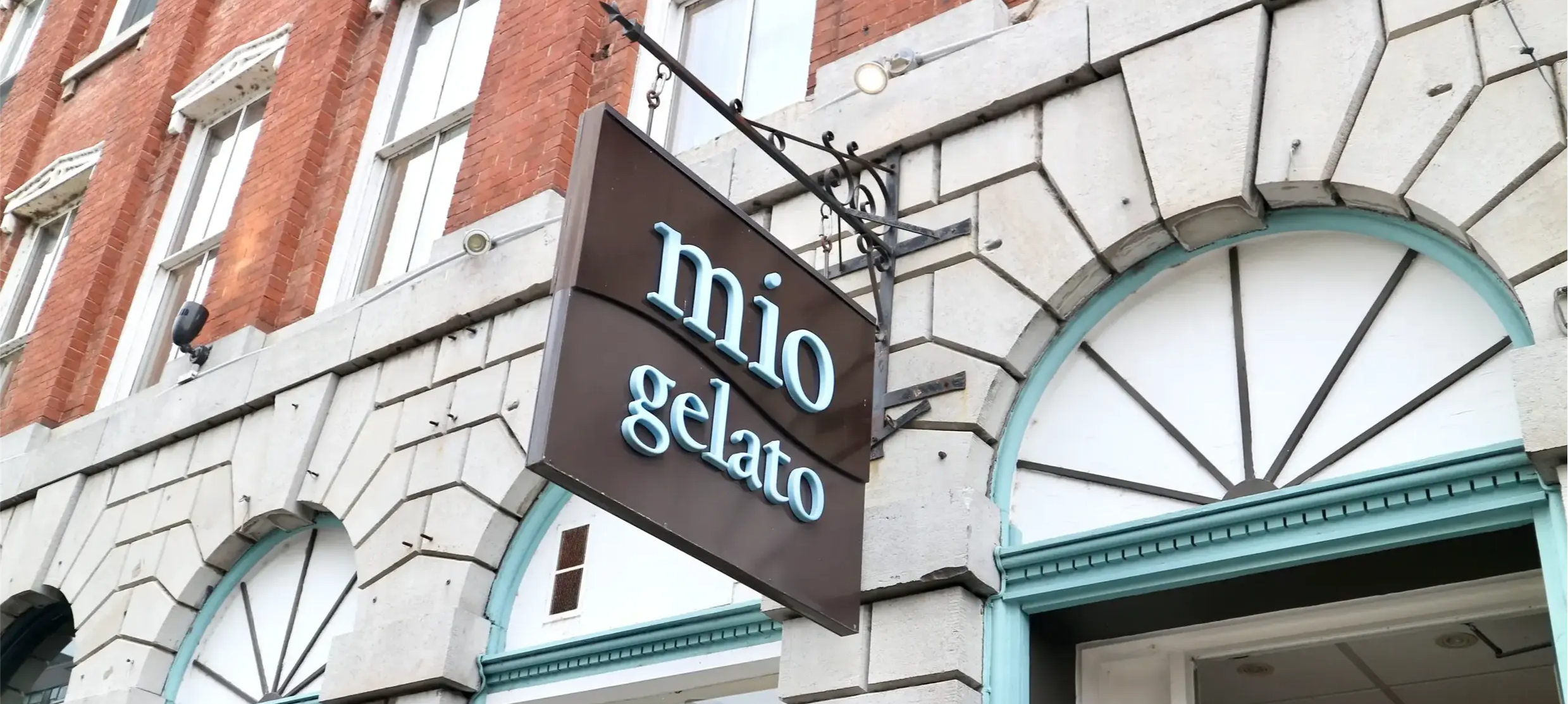 Where: 178 Ontario St., Kingston
Churn Small Batch Ice Cream
Est. 2022
Where: 320A King St E., Kingston