Have You Tried Sally's Roti Shop?
Curry. Delicious curry. When I moved from Toronto friends would inquire, "How are you going to get your curry fix?" I'll admit that I was a little concerned as Kingston has quite a few Thai/Cambodian restaurants and a couple of Indian restaurants that offer fantastic curry dishes but one of my favourite types of curry dishes is in the west-indian category. Specifically, the Trinidadian kind – roti. 
If you're not familiar, Roti is a type of flatbread wrapped around a savoury, curry flavour bomb of protein (chickpeas, shrimp, beef, goat or chicken) and potatoes. It originated in South Asia and when labourers from South Asia settled in the Caribbean – specifically Trinidad and Tobago – Roti became a cultural staple made with the traditional curries of the West-Indies. Don't you love food history? 
So basically when I moved back here just under a decade ago, a co-worker learned of my Roti obsession and had a very helpful suggestion, "Have you tried Sally's Roti Shop?" 
As I enter Sally's on my first visit and look up at the blackboard of menu options, I shriek, "DOUBLES!" Doubles are my second favourite Trini dish. A little bit smaller than a Jamaican patty, doubles are two pieces of channa bread (crispy dough) sandwiching curried chickpeas. I order that and a Chicken Roti. I have to be honest, on my first visit to Sally's they were having a bit of an off-day, I like my Roti so saucy that when I cut into it a pool of curry juice spills out. That didn't happen on my first visit, but I still enjoyed the flavours. I went back and tried again and it was glorious. They also serve oxtail which is a flavourful, spicy stew served on rice and peas (kidney beans) - my kind of comfort food.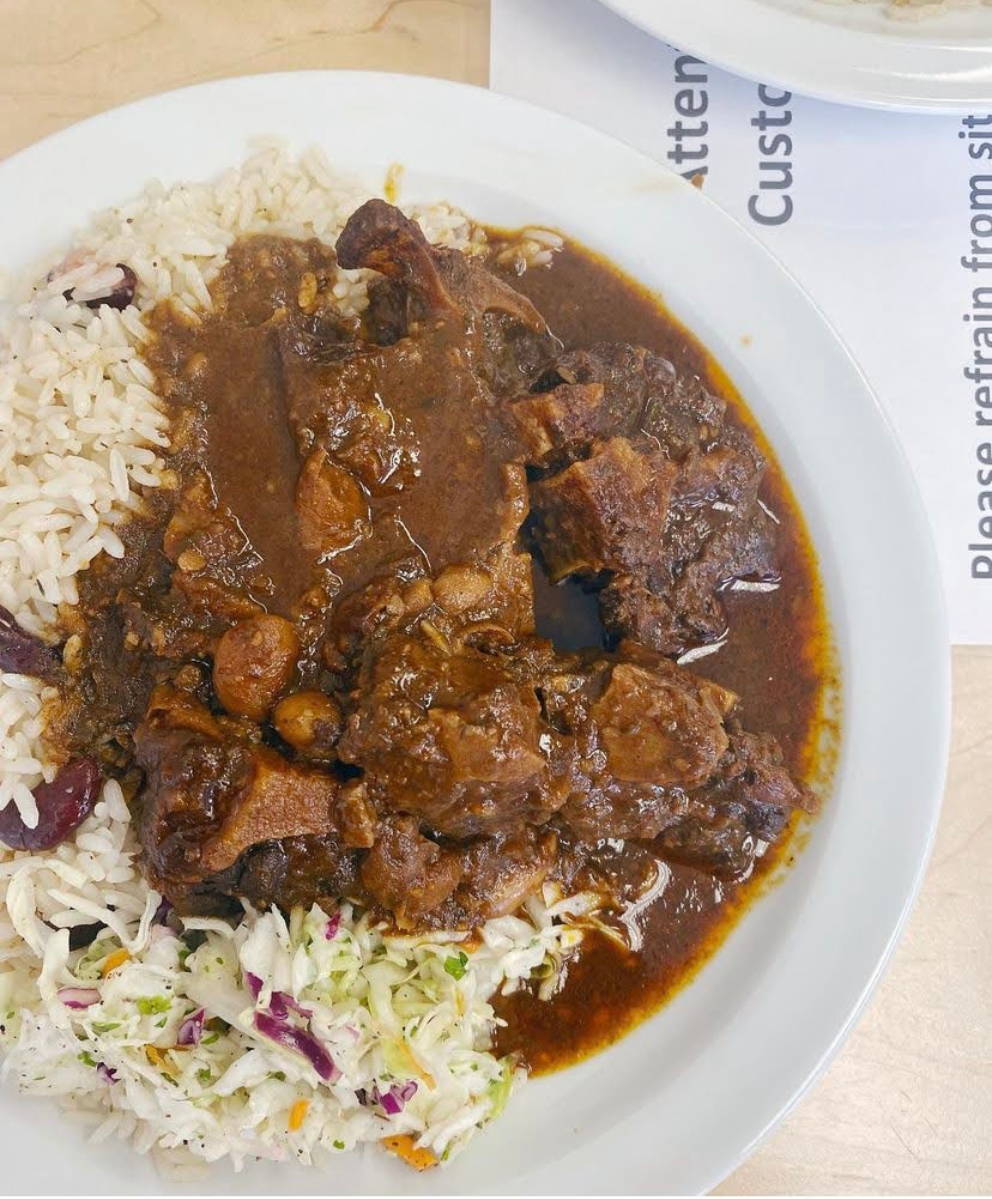 Price: This is a great place to grab lunch away from the office because you can be in and out in 30 minutes (if you eat there) and spend under 20 dollars, so prices are reasonable. You can order at the desk and they bring you your dish and then you pay afterwards so it has more of a take-out atmosphere.
Chances of Revisiting: Sally's is now a staple for me. I suggest to anyone who frequents downtown.  
Bonus: This is a family-run business so you can see Sally stirring the pot in the kitchen. I love local entrepreneurs so this makes me happy. 
Sally's Roti Shop
Authentic Caribbean Cuisine
Where: 203 Wellington St, Kingston, ON
---
Tianna is a wife and mom of two young kids with a day job as an Equity, Diversity, Inclusion Coordinator at Queen's. She takes pride in living in Kingston and loves celebrating all things local (mostly food related!) through her blog, Keep up with Kingston. Follow Tianna's blog for more local food, culture and shop inspo. Get the latest from her over on instagram.