10 Ways to Make Back to School More Sustainable
Let's start this sustainability dive with some statistics, shall we?!
We love to hate on the over-consumerism of V-Day and Christmas, grumbling about how far into debt many of us will get to keep up with the "norm" and yet, we still just do the same ol' thing each year. The back-to-school season isn't usually thought of as a consumer season, but it really has quite an impact. "Back to school" is an unwritten, traditional thing that our society takes part in, or at least I always have, and I'm a 36-year-old mama getting my own sons ready for this return to routine.  
Some stat snacks for you (pre-inflation):
89% of people purchase new footwear, and 84% purchase new clothing (Tighe, 2020).
In North America, parents are spending, on average, $796 *per child* on back-to-school shopping (Consumer Behaviour, 2020).
By and far, stats show that it is mass merchants [big box stores] that do the most business, with 48% of shoppers doing everything online (Tighe, 2020).
And... "92% of Canadian families believe that back-to-school shopping is a financial burden" (Consumer Behaviour, 2020).
"SHEESH."
As a parent, we want the best for our kids, and there's nothing wrong with that. It gets us right in the guilt - everyone's doing it, right? Our kid can't be the one showing up in the same stuff from last year... right?
Here's a list of some ideas (and personal opinions, this is just me chatting away here!) of ways to do it differently - the bottom line being, that we need to try to do things differently.
1. Don't buy a new backpack, lunch box, cell phone, or laptop if it's not needed.

We have to stop the cycle of "new - just because." I remember the automatic purchase of these items in my school years, even with my old bags at home from last year - merely a couple months earlier - being just fine.
If you do buy new, think about buying something that is going to last. We all know what the backpacks look like that aren't going to last, they are usually covered in a thin plastic that will wear or fray before winter hits, and we will throw it out when the strap breaks, because it's not worth fixing.  
If a brand new backpack isn't in your price range but you want to aim for quality, check out Poshmark, our local thrift shops, online thrift shops, and Facebook Marketplace. There are so many Fjallraven Kanken bags on there that we were able to choose the colour my son wanted for Junior Kindergarten, and he will now enter Grade 2 with the same bag.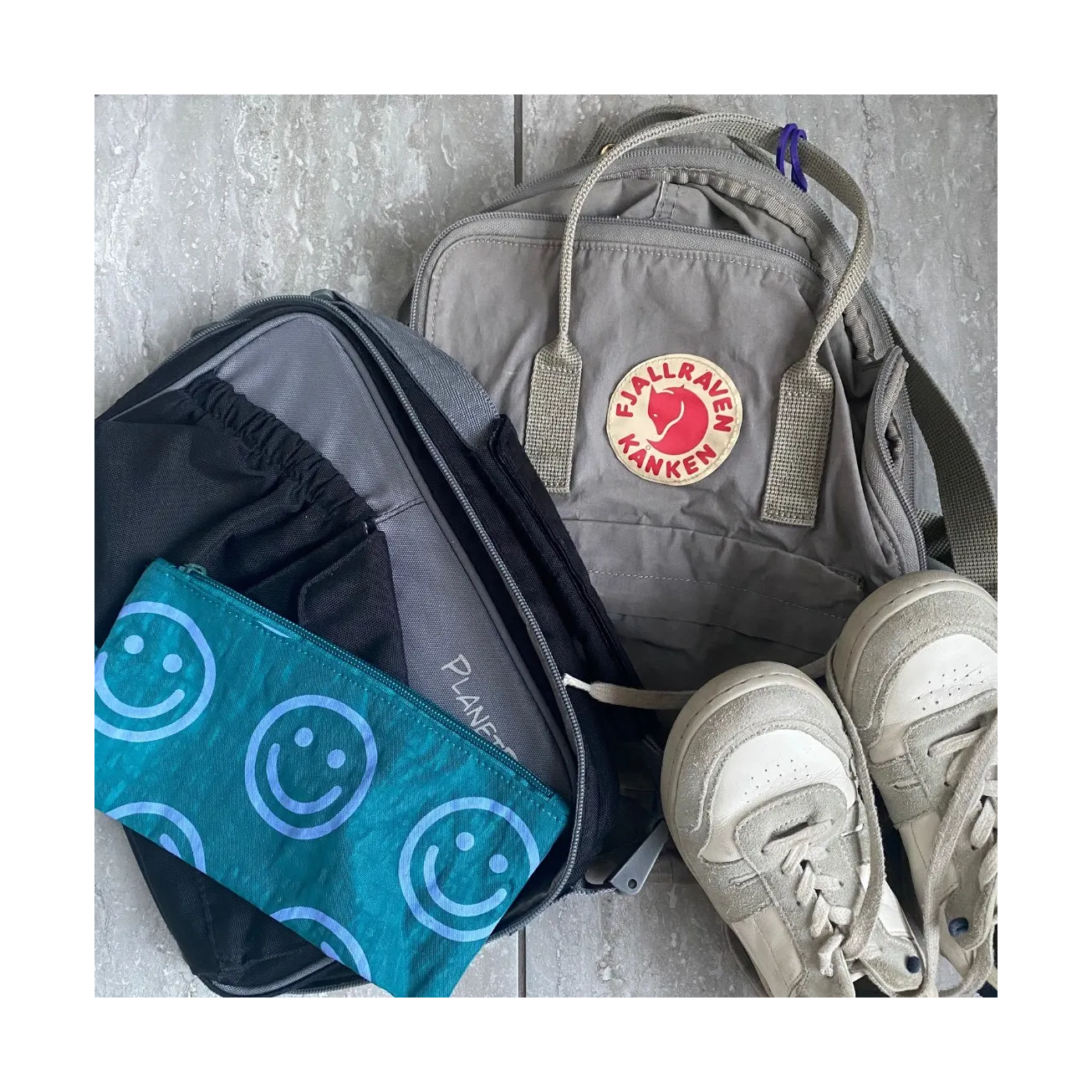 2. Review school supplies you already have before buying new
Sure, pencil crayons might be on sale at eight stores this week. My mom loved the hand-me-down clothing game, but she always bought new supplies to fill new pencil cases every Fall, and stockpiled whatever was leftover from last year. My siblings and I are all in our thirties now and there is a washbasin-sized tub of mostly still unused pencil crayons in her kitchen cupboard. I doubt I ever used up my pencil crayons in a year, or were even close to it. And, if there was a colour that I'd broken, we likely still had 16 of that colour that I could have replaced it with.
Instead of buying new packages of everything, open up last year's pencil case with your student and see what's needed based on what they already have.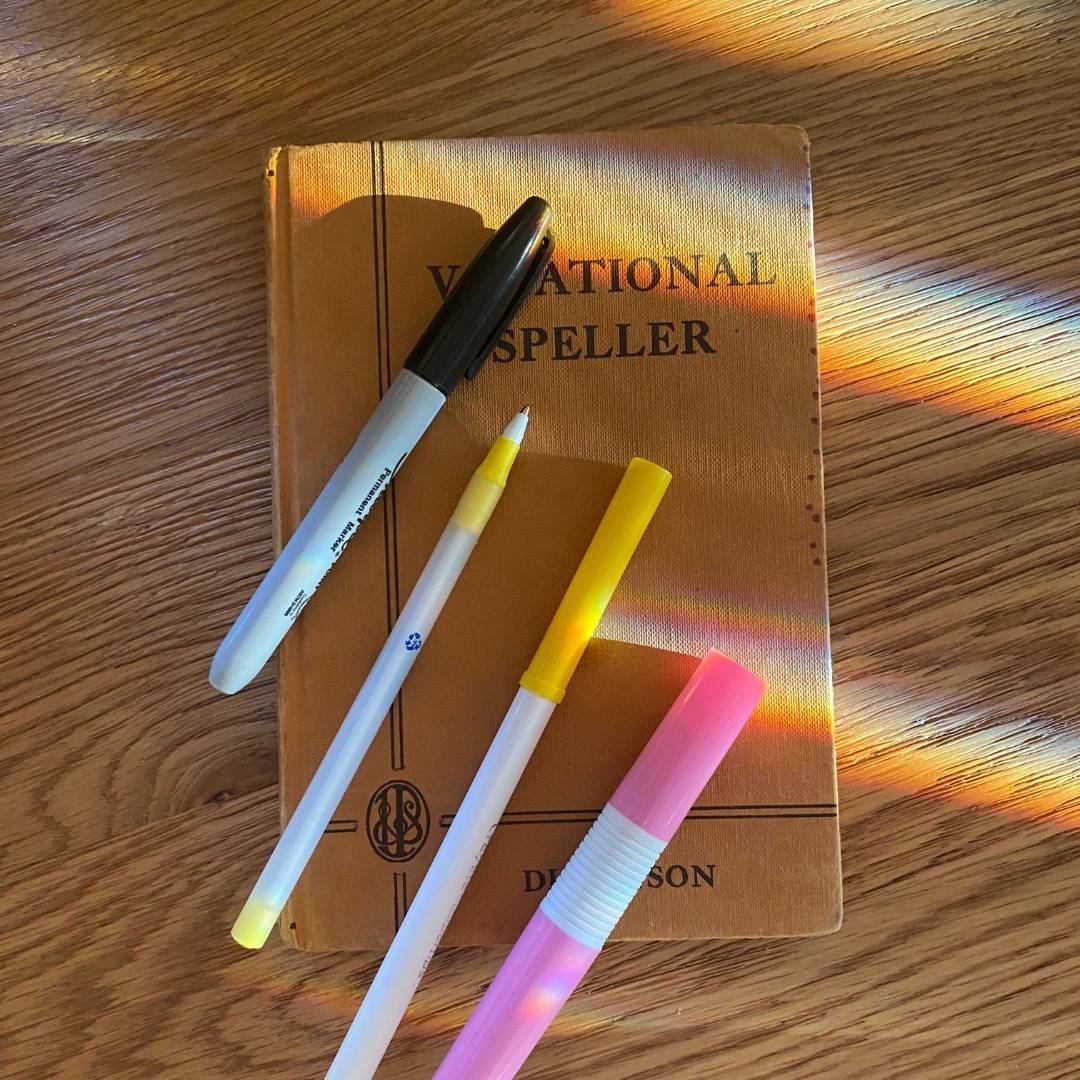 Opt to use up packages of paper and notebooks you already have, and use both sides of the paper to decrease the need to buy new!
3. Avoid "phase" + trend buying
I remember my sister went through a "horse" phase... you know, as we tend to do when we are 10, right? She had everything horse-related, and people just knew that they needed to produce a gift with that theme when buying for her - it was just such a well-known obsession of hers. Then, one Christmas, she had to write "NO horse stuff - I'm out of that phase!" on her Christmas list and underlined it, emphasizing that she would no longer be accepting things the old her would have loved.
That's the thing about kids. They love the dang bananas one day, and the next day, they swear they never ate them at all because they are so gross! Old favourite TV shows become baby-ish, Disney movies are churned out and fiercely loved for a little while, fresh McDonalds toys are released, and a new must-have line of merch comes along with it. While it's completely within a person's right to upgrade their preferences over time, it can be very consumer-driven at the childhood level as well.
To live in a simpler and more sustainable fashion, we might begin to consider whether we need to "own" everything we like and everything we are passionate about. Especially if it means we won't love it for long, and it involves investments of money and resources. Maybe our clothing doesn't have to reflect our full identity (especially as it shifts so much through childhood) and we can choose things that suit multiple evolutions of our personhood.
Avoiding clothing, bedding, backpacks, shoes, and binders with phases on them is a great place to start if you are hoping to decrease your impact and look at consuming with the long-term good in mind. It's kind of the same thing as avoiding trends as an adult. Choosing more timeless standards for key items (say, a colour your child loves, in a better quality material) helps decrease the endless cycle of stuff. Another positive of choosing in this fashion is that multiple children can use these basics over many years, and we shift to reusing and this can help us reduce the amount of new items we need and consume.
4. Save your spent school supplies to recycle instead of tossing them
Over here at the shop, we are still committed to collecting spent markers, pens, and writing utensils cased in plastic. Grab an old bread bag or yogurt container (there's usually something in the recycling!) and fill it with last year's markers that are dried up or used up, and save the landfill from those little plastic bits that will take hundreds of years to degrade.  
If you're not in the area and receiving deliveries or able to drop off at the store, check out your local Staples or ask at your school, as many locations around may already have one of these recycling programs from Terracycle installed. It's an easy thing for kids to collect and take ownership of their waste, too! And, it's free to drop off at these boxes!
5. Invest time into enjoying a new tradition instead
Sure, maybe school shopping isn't a financial burden for all, and it can be fun to do with our child. In some ways, it can feel like we are getting them ready for something big! Plus, we know it might be a nice day out for us to make a memory.
You might be wondering what to do, if you don't head out on that shopping trip topped with a sundae or supper out somewhere special. Maybe it was the only time you felt your own parents focused on what you wanted for a day, and there's a lot wrapped up in that. Maybe you don't want to do it differently, because maybe back-to-school has some personal significance for you. I totally get all of that; as consumption in our Western culture is usually heavily tied with memories, emotions, and sometimes even portions of self-worth. It's a tricky web to untangle, but one worth looking at and working through.
If you're at all queasy about the cost and the unnecessary consumption that comes with this semi-holiday, then why not try a new tradition? Take the kids to a drive-in as summer fades away, a beach day, or a mini putt afternoon with the same sundae or dinner out afterward. Maybe an epic water park date, or a geo-caching trip to a new provincial park with a picnic? Ask the kids what they want to do, and spend the money on a hotel with a pool or an adventure that will create some pretty amazing memories instead. The "end of summer adventure" you take can be more of a time to connect than cruising around a mall or department store, or time spent tapping around on your phone to secure some big box sales.
6. Choose better paper products
If your child requires new paper packages for their binders, notebooks, or printer paper, opt for recycled or FSC-certified papers. While it isn't perfect, this certification ensures that forestry management is at the heart of the resource development and production for those products, and can ensure a more sustainable future by choosing in that way. Showing your child this certification and talking about it can help them understand that what they are using has impacts, and that's always a great lesson for appreciating and caring for our things. Creating a connection back to where an item has come from helps our children learn about the resources we rely upon and create some understanding of how we can manage those systems responsibly.
7. Try out new lunch + snack options
Earlier this year, I got to work on some projects that talked about reducing food packaging waste. Not surprisingly, bulk food shopping was at the heart of it all. As a family, we've ensured some more fibre and nutrition in our diets with a switch away from pre-packaged, processed foods to a more basic ingredient-based diet. Litterless lunches were a pretty key piece for schools in planning for Covid restrictions, but it needs to be more than us opening the packages at home and throwing it out in our own bins instead of in the school's trash.
To help reduce all the tiny packaging (which are not recyclable), you can try to make a few different lunch snacks that are still nut-free. Trail mixes of raisins, dried cranberry, Cheerios (or other cereals), chocolate chips, and pumpkin or sunflower seeds replaced granola bars without much work or even any baking, and are all available readily in bulk shops. Chia and hemp hearts were mixed with some of the trail mix or a granola cereal to make a yogurt topping so that kiddos just have to dump it and some fruit on top (using little containers to scoop yogurt from a larger one is also another great change). The bulk food store also offers mini cookies, full-size cookies, crackers, snack bars, chips, and a ton of dried fruit options without the packaging. You can even buy juice crystals at a lot of bulk shops or larger containers of juice in glass that can refill a small water bottle in place of juice box packaging. You'll be dumping your trash a lot less, saving money in some cases, and simplifying lunch-making by having the ingredients do double duty for other recipes in your kitchen, as well. If you want to read more about bulk shopping, consult our blog or our Instagram highlights!
Bulk food shopping for lunch snacks can decrease a lot of packaging waste. 
As a prior teacher, I couldn't grasp where I would put the round of mugs and hand soaps that I received every Christmas and end-of-year day. Chances are, you're not likely to be able to match that teacher's home decor or tastes if you really just don't know them that well, and it's going to end up in a donation bin or trash can.  
If you're not sure what to get a teacher (or bus driver, or coach, or support person, etc), and your go-to is usually some kind of generic gift that is tough to deal with if it's not needed, opt for consumables. Honey, coffee, wine, chocolate, cheese - it can all be used up or shared with loved ones without the knick-knack that adds up to more clutter that we simply just don't need. Another great idea is a gift card - even if it's just for a coffee - and bonus points if it's electronic (printable on paper) or not a plastic-based card, for a small local business. That's a gift for a small shop, too, and we have so many amazing options in our downtown core!
9. Try out a new way to shop for children's clothing
After finishing up a long series on sustainable clothing and wardrobes in our Instagram stories last week for our Sustainable Living stories, I thought I would get a few of the key ideas down here for shopping differently when it comes to your children's clothing, if you're looking to move away from big box, fast fashion items for your kids this fall.
Here's a few general tips to get started:
1. Start with their current closet - try items on, see what fits, fix what needs a new button or knee patch. Then, decide what you actually need to add to the closet to round it out instead of hitting sales first, asking questions later.
2. Avoid clothing with unnecessary plastics. Logo screen printing across the front of shirts prevents that portion of the textile from ever being recycled, and has to be cut off for recycling to happen. The same goes for any sequin tops (as those are pretty "in" right now) - it's a lot of plastic waste that will fall off and break apart. Basics last longer and can be used by many.
3. When shopping, ask yourself if you would repair the item if it had a small hole or needed a repair or if you'd likely just toss it. If it's not worth fixing, it's likely not worth buying.
4. When shopping sales, ask yourself if you'd pay the full price for the item. If you wouldn't, you don't likely need it. This, by no means, means that you have to not take advantage of sales, but it can help you sort through the good - and unnecessary - stuff when shopping.
5. If you have more than one child, work to invest in items for the oldest that have the quality to last through all of your children and beyond. This is called "heirloom quality." And, this concept doesn't just have to be for skates and life jackets! Choosing footwear and basic clothing in smaller increments as it is needed is a great move away from fast fashion, and can still be done with children's sizes, too.
6. When buying heirloom quality, choose basics that can suit all of your kids - basics like crew neck sweaters, boots, t-shirts and jackets.
7. Opt for natural fabrics - as these can fully degrade at the end of their useful life. Anything mixed with spandex has plastics in it. Basic cotton is the most standard option for children's clothing, and can be very affordable.
8. Watch small, quality clothing brands for sales and shop the next size, or thrift in advance for the next size. Once your child needs it, you won't need to contemplate the pile of t-shirts that won't look fresh a few months later in the fast fashion shops (and likely get to do it from the comfort of your couch!)
10. Remember that our society's level of over-consumption is NOT normal.
I truly understand the parental guilt that ratchets up at moments like this - if I don't do x, y or z, then my child will feel left out/stuck out/singled out. I'm already anticipating it for Christmas and every birthday party I will ever plan for my little boys, because I still feel it all the time, even knowing that I want to be more conscious about our consumption. It's there, it's real, and we need to acknowledge it and move forward in a better way than succumbing to it. Because if that guilt is allowed to sink in, we'll be on the fast-track to feeling out of control and spending without control.
The truth is, there are tons of children that cannot afford back-to-school shopping and this is just one more time that the split in socioeconomic status can be made clear to children. The more fresh, brand-new logo t-shirts a child has in September is unfortunately not helping them to bridge, understand, or empathize with that gap in the classroom or feel good about not having everything attainable to them later in life.  
And quite honestly, there is more to be gained in helping our children understand their place in resource use and the waste cycle than there is in helping them learn how to jump into the over-consumption that plagues our society. What has always been normal about this stuff is not actually normal, and it doesn't lead to happiness or a better future for any of us. Children can play a role in helping us look at what we already have, being grateful for what exists already, and learning to see what we need and only go about acquiring that. Maybe there's even a lesson in sewing, or fixing something up, or making it "new" with a fun iron-on patch each year rather than a whole new backpack. A lifetime of grabbing whatever we want, whenever we want, because it's on sale or we feel pressure to buy, is a scary lesson to walk forward with (and one I personally know the consequences of - a lot of debt, a lot of unhappiness, a lot of trying to find meaning with clothing instead of the internal stuff). We are also seeing that the key demographics dealing with climate anxiety are children and young adults, so this can be a way to help them feel they are making a difference in making change, too.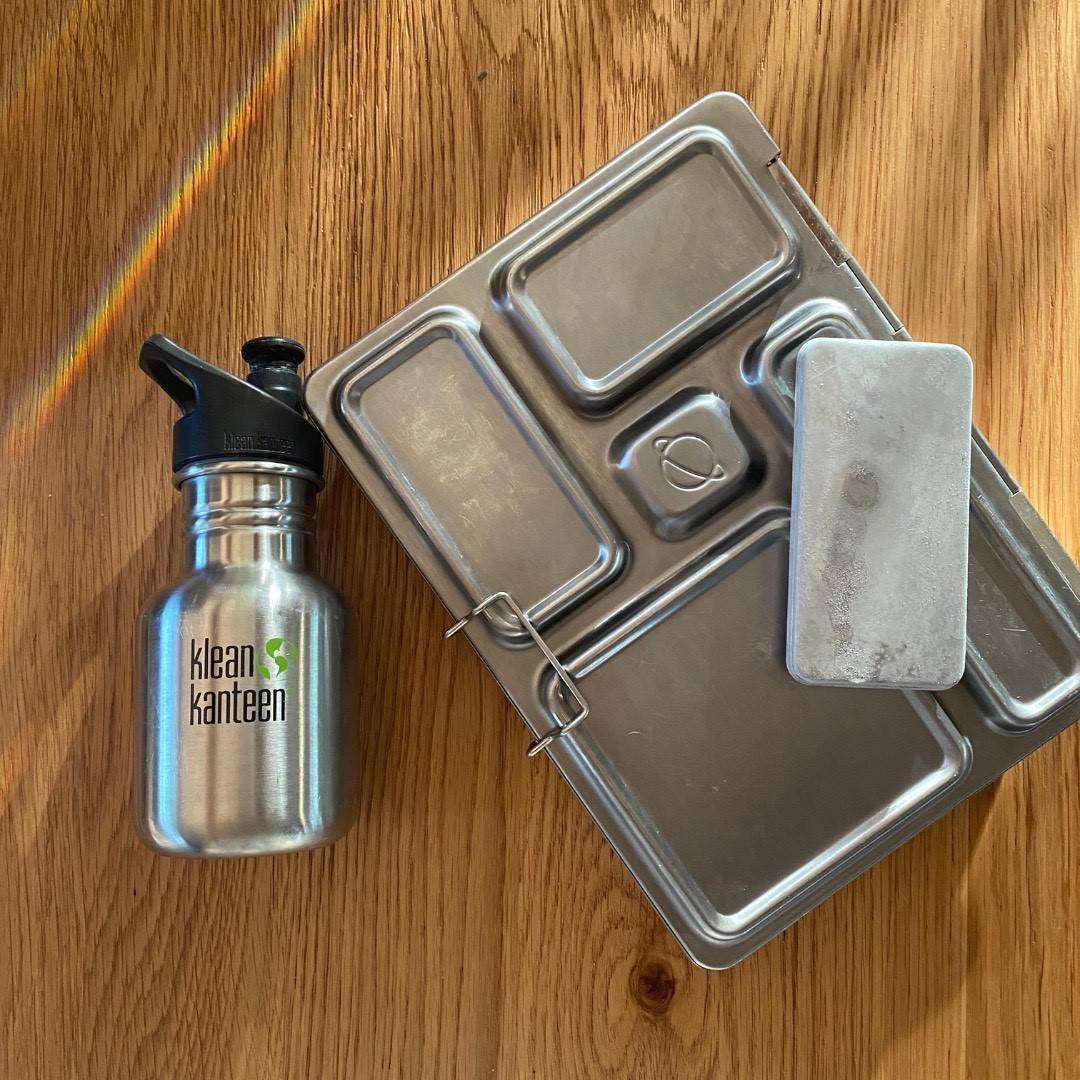 Stainless steel is infinitely recyclable, so it is a great durable choice for lunch items: ice packs, water bottles (or juice bottles in place of juice boxes), and containers are easy to maintain and very sustainable.
Anyway, if you feel like you're in the category the statistics from the start of this whole chat encompassed - the one that states this big back-to-school shop is a financial burden for 92% of families - here's a friend telling you that you don't need to do it. Use all of that energy that you'd normally put into back-to-school shopping and fretting about your child having something new and the debt you'll acquire to get into planning some lasting memories with your child and having some good conversations about this stuff. And, if you're ever looking for more validation in exiting the consumption-based life, check out our conscious consumption posts on our blog!
Harlowe Green
Indepedent + locally owned refillery
Where: 90 Brock Street, Kingston, Ontario 
 A farm girl and graduate from the University of Guelph, Ange is a nature lover and environmental activist. A local entrepreneur, she's interested in re-learning old ways that are more in tune and connected with the Earth. As a mom to two wild little boys, she shares their behind-the-scenes family journey to low-waste living in a rural area outside of Kingston on her social media and blog, Zero Waste Adventures.