Find Cher-Mère at The Black Block Party
This Saturday, July 29, the inaugural Black Block Party will take place in Confederation Park, featuring the participation of 20+ local Black-owned businesses (pulled from this Black-owned business directory) including downtown Kingston's very own, Cher-Mère!
I sat down with the owner of Cher-Mère, Dr. Aba Mortley, to learn a little more about her journey as a downtown business owner (celebrating ten years this August!) and what the Black Block Party means to her as a community advocate and organizer.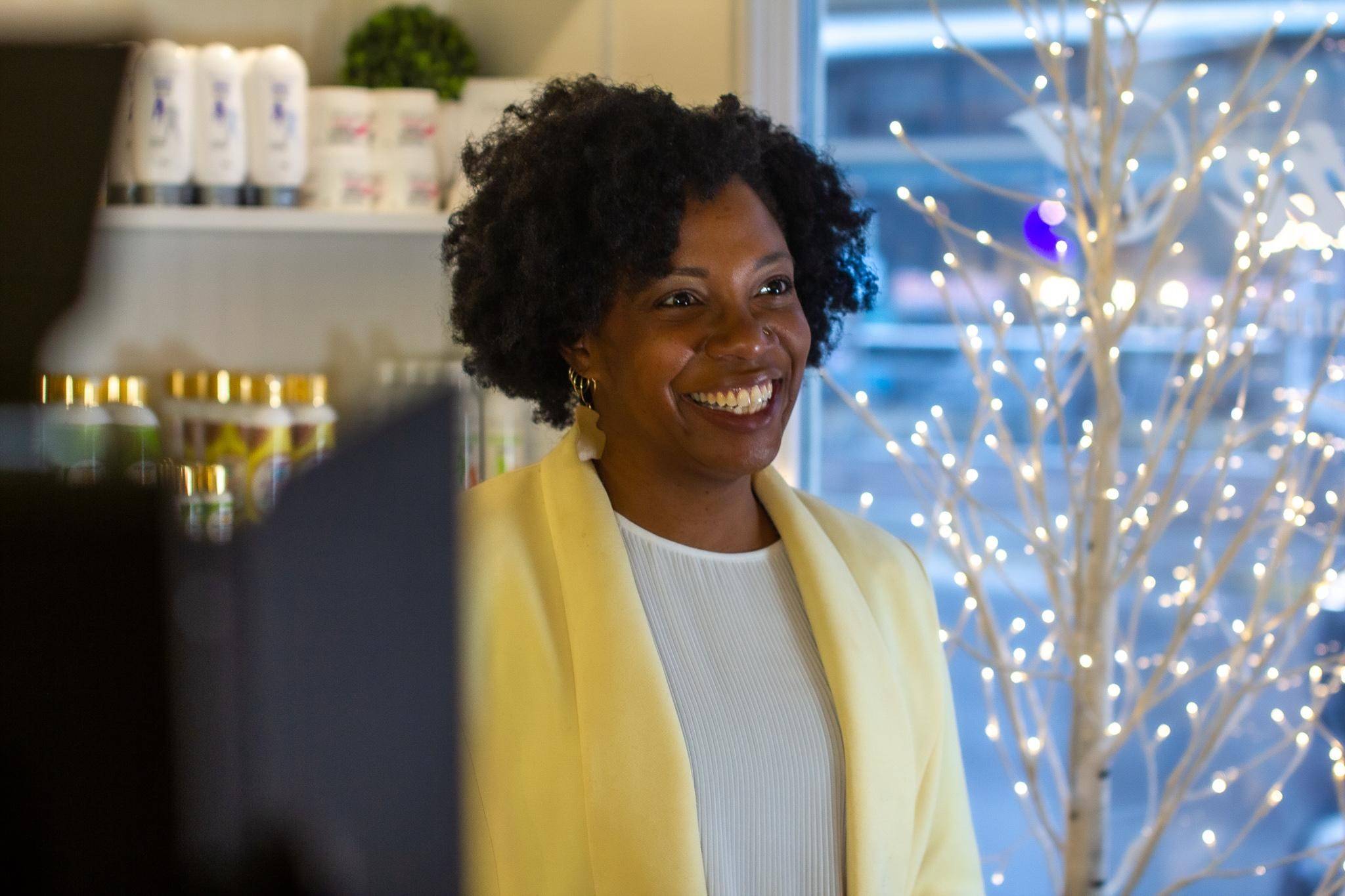 Tianna Edwards: Tell me a little about Cher Mère and why you started?
Aba Mortley: This will be our ten-year anniversary in August and it's a space that I wanted to create that uses our own brand of products, Cher-Mère, that my family creates as well as the services we do. We wanted to create a space where people feel safe and a sense of belonging so that's kind of what we've built. Building on community and building on relationships. I think that's what has allowed us to have the longevity that we have. It's not just a transaction but it's a transaction within the community beyond just getting a service but getting a sense of belonging. It goes beyond coming through the door. The things that we do like giving back to different community projects every month.
TE: What do you think you've added to the downtown Kingston community?  
AM: I think the biggest addition to the downtown community is that I am an example of what people can aspire to be if they come as an immigrant to Canada. I came to Queen's [from Trinidad] with a suitcase and knowing zero people and now twenty years later (ten years later at the spa) I have a network of people. So much so that my kids refuse to walk with me anywhere because it takes too long [laughs].
I think what we've been able to do is not use contacts that we knew growing up, which is what many people have and that's great, but build contacts through doing, and community, and acts of service. And I have people that are like, "you didn't know this affected me but you gave back to Action Breast Cancer Kingston and that money you gave allowed me to pay for heat that month because that money facilitated that support." And I'm like "oh my god, really?!" and they share, "I might not be able to come to the spa but I know you donated and so I tell people if they can go to a spa, they should go to you because of some of the things you do."
We don't just pretend, we actually do the things. We are Rainbow registered, we have our workplace charter, we have a very diverse staff of people from different cultures, different genders and people who identify differently and are all supported. Therefore, that makes people who are in a gamut of places and spaces in their life feel comfortable to come there. That's what we've been able to build.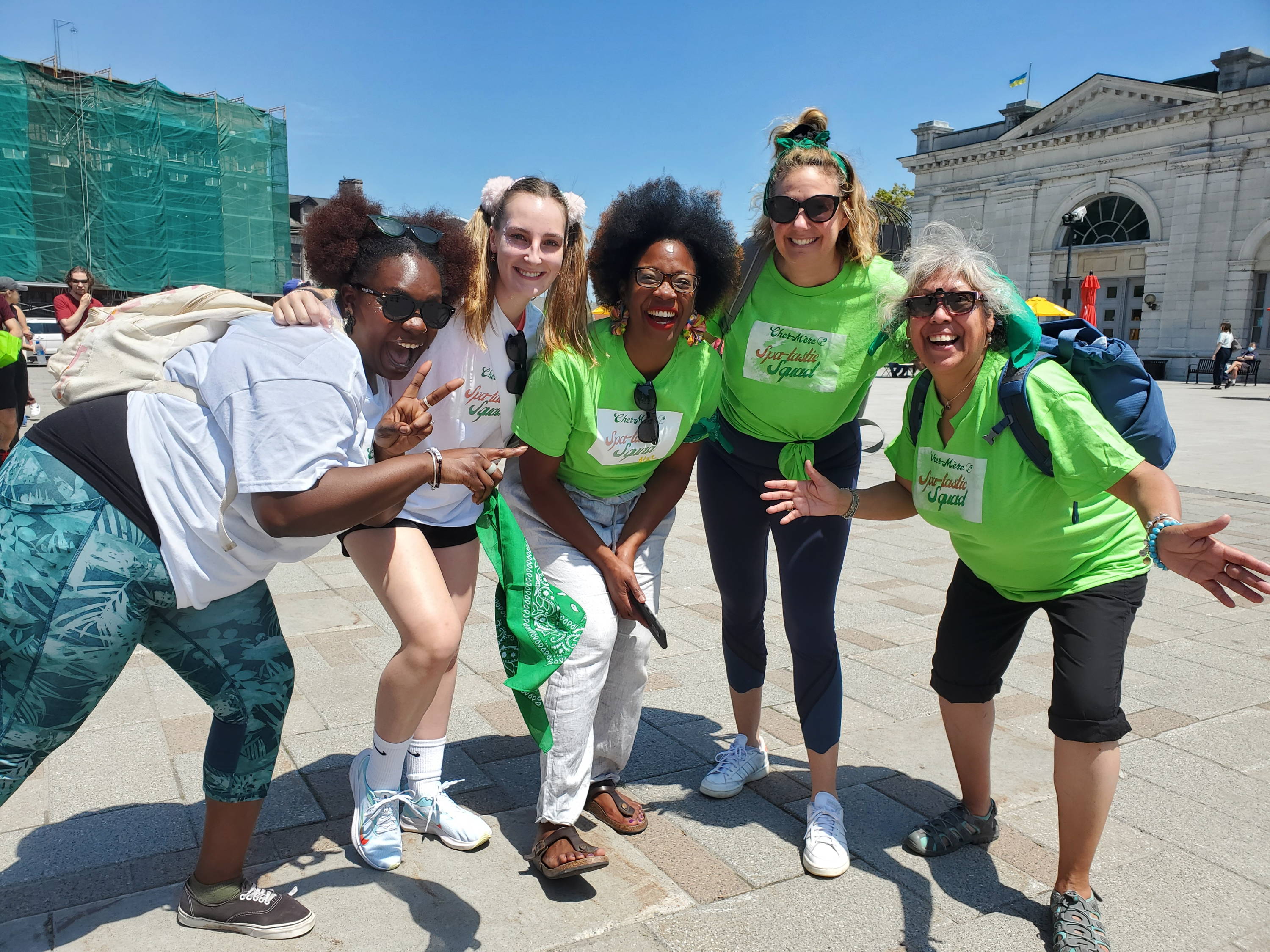 The Cher-Mère team at the 2022 Downtown K-Town Runaround
TE: I love that. Thinking of all of the work in the community you've done, including Emancipation Day, and the planning you've done with us leading up to the Black Block Party, what does it signify to you as somebody who has been doing this type of work for so many years? 
AM: Emancipation Day, this is our second year, it's great to see. I give accolades to the City of Kingston's office because they've really supported and put money and time and effort toward supporting this initiative. It says to me that there are people who want to make this space and this city something that will make people that might not have grown up here, feel welcome to do. It's a signal that says whether or not people are aware of the entirety of what it means, that it's a start. Maybe it grows and becomes a part of the vocabulary and vernacular of the city because these things have taken place. I am just happy to participate and be a downtown business and hoping that as the years go on, we have many other downtown businesses who also have Black, Indigenous and People of Colour who can participate in events such as this one.
What does it mean to participate? 
It's great because it shows the Black community- I am here, and the Kingston community- I am here. Here is somebody - whatever the perceptions of that might look like – who is still here and standing and doing stuff for the greater city, but also supportive of the Black community because that's a testament to where I came from.
TE: What are you most excited about and what can people expect from Cher-Mère?  
AM: I am just excited to be in the space and see what the energy is like. I think it's going to be great. I am excited to be part of the activities and festivities. It was so great the start of last year and I think we'll just build and build. I think it will be a flagship thing if we do this correctly that people will be like 'Hey, did you know Kingston has this?' and that might precipitate into other areas. Maybe this initiative helps to boost the Kingston community and its whole idea of bringing new immigrants and new cultures and ideas and that will boost everything and will be a catalyst to so much more and that's so exciting to be a part of. We will have lots of different products and giveaways and my kids will be there working our booth!  
Norman Musengimana, Board treasurer of the Black Entrepreneur Ecosystem, an enthusiastic sponsor of the event says, "The Kingston Block Party celebration comes at a good time within our growing community. Black entrepreneurs in Kingston are excited about new programs and initiatives designed to provide support through the Black Entrepreneur Ecosystem for South Eastern Ontario, which offers a platform for all business owners, ecosystem partners, and organizations, both from Canada and beyond, to engage with entrepreneurs in our growing and increasingly vibrant community. We have witnessed incredible support from organizations like the Kingston Economic Development Organization and business owners like Dan Desjardin from Distributive, coming together to support the Black Entrepreneur Ecosystem for Southeastern Ontario and its members. Thanks to the organizers of the Black Block Party, the City of Kingston, and all the stakeholders involved, the timing couldn't be better for this wonderful event celebrating our diverse community."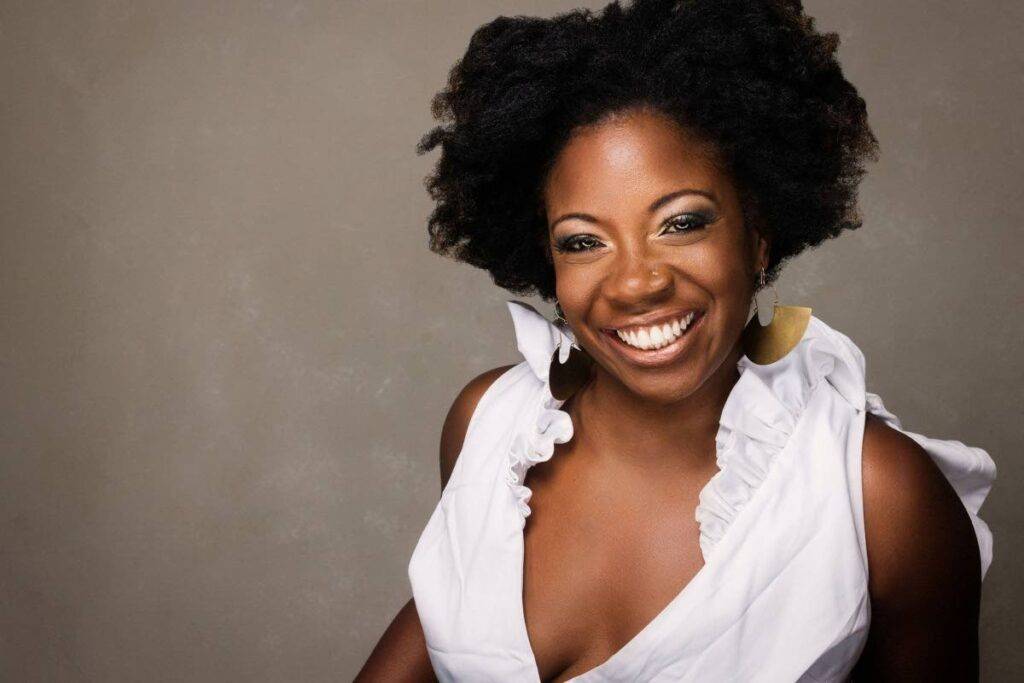 Where: 68 Brock Street, Kingston
Tianna is a wife and mom of two young kids with a day job as an Equity, Diversity, Inclusion Coordinator at Queen's. She takes pride in living in Kingston and loves celebrating all things local (mostly food related!) through her blog, Keep up with Kingston. Follow Tianna's blog for more local food, culture and shop inspo. Get the latest from her over on instagram.