8 Ideas for a Sustainable Autumn Season
This time of year is so fresh! The sunlight filters in its unique September way. The fall coziness of cooler nights settles in, but the warmth of the sun remains, hanging on before those frigid cold days arrive. The humidity and the heavy haze vanishes, leaving the world rendered slower, crispier and tinged golden. Summer is wonderful for many reasons, but the early fall period is so hopeful and energizing! I think it might be the whole back to routine, back to school anticipation of newness that happens at this time of year that I'll forever be cued to; that motivation to take the opportunity to get started on new goals is so internalized all of these years later. On the other hand, I also love the ancient connection to the theme of dying and the shedding of unnecessary things just before a long hibernation that comes about this time of year. As nature slows down and goes to sleep, we can settle and quiet in ourselves as well. The sunlight is still here for a little while but fading, almost like a daily reminder there are some things to be done in anticipation of a rest. 
That being said, I have to intentionally connect with this by getting outside and reflecting on the seasonal turn, because otherwise, it can also be a bit overwhelming jumping back into all the things. Our own little boys are beginning their new school and daily routines and we've plenty of work to be done to prepare for the winter in terms of our home and within our shop with the coming holiday season. It can be a little bit of a system shock to jump from the languid summer time to fall preparations and day-to-day for many, so we've included some intentional living strategies and rituals alongside our sustainability strategies in this blog post roundup.
1. Connect with Local Food Systems

Traditionally, the harvest season was an intense time to prepare for winter. Canning, preserving, root cellaring, and a lot of energy and focus upon storing enough were the hallmarks of this time of year. Now, we approach the always-open grocery store with meal prep lists that reflect our modern food systems, where we can get whatever we need whenever we want it. This type of food system is convenient and can feed the masses here, but has a much larger impact. And, as we look ahead at continued climate change impacts and building our resiliency, many elements of our modern food system are not very sustainable on the global scale. Building local resiliency and food security can begin with supporting local food systems, which is a great way to connect with community and the land around you, bringing about sustainable action with intention. 
While it can be a lot to get started with storing local foods for the winter season, it can be great to get out to your local farmer's markets and roadside stands. Asking questions about the produce, the farms, and the farmer's approaches and suggestions can help you to get to know the food producers in your area. Eating beans from Titsia, beef from Uncle Paul, bread from Erin, and apples from our favourite little family farm "where we get the pictures" (as my children know it) have become the intentional aspects of our dinner conversation and make preparation of these food items a more conscious thing in how I choose to value them, knowing their stories.
The food is of incredible quality, more basic in helping our family find simplicity in cooking with real, whole foods, and almost always more affordable as we are directly paying the producer. While it might not be reasonable to do this at first for every meal and food items depending on your lifestyle and what's available to you around you, it might be something that is reasonable to do for a holiday meal - a local turkey or meat, local vegetables, a local order from a bakery. Approaching the meal with intention can present a whole new level of conscious memory making and the connection to a more value-based celebration.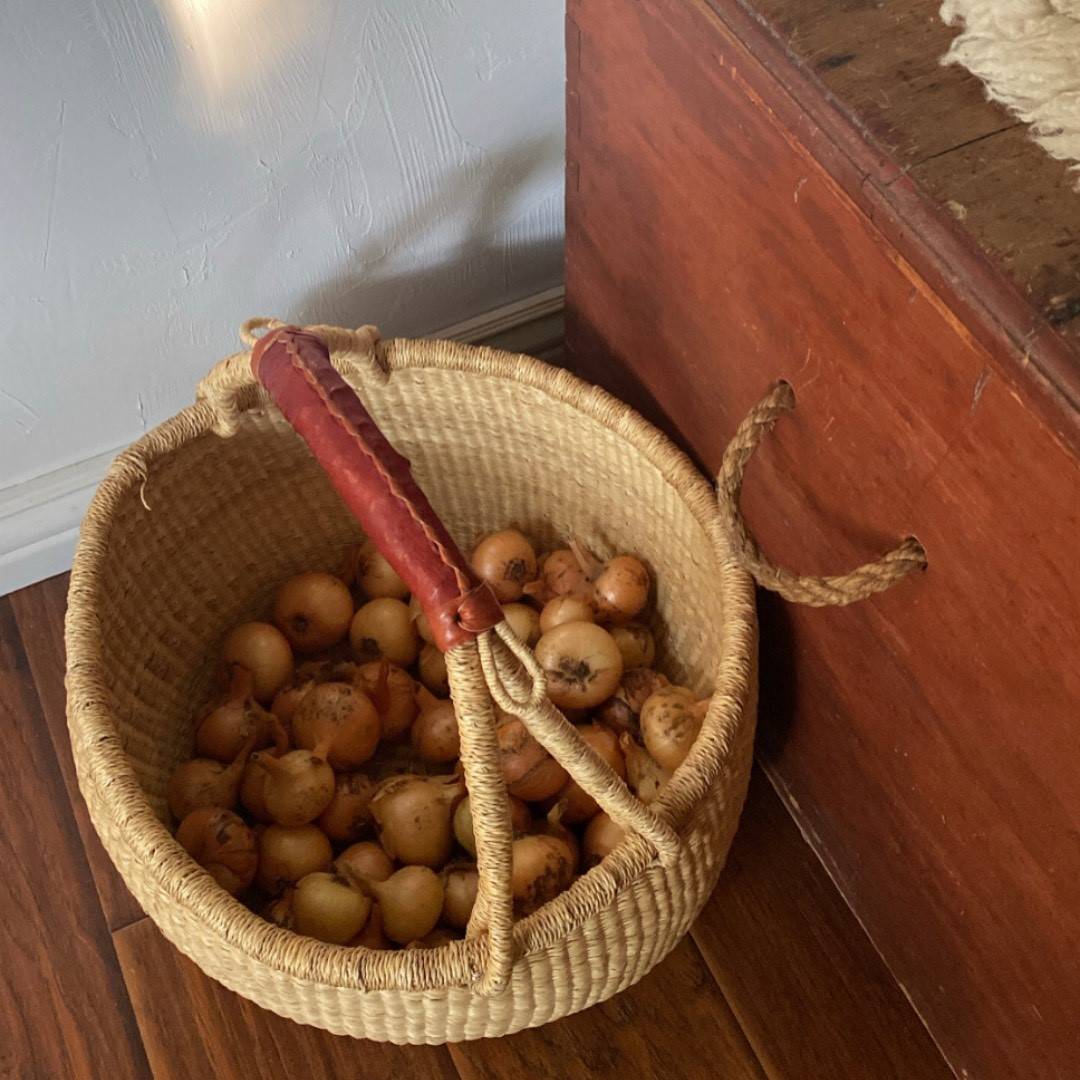 Storing local produce during the harvest doesn't need to be complicated. Onions, apples and potatoes just need storing as they are, but freezing and canning locally grown produce can decrease our carbon footprint as well.
Connecting with our local food systems has blossomed into many things for our family over the years, and we try to do a little more as we learn more and it becomes easier. We've been (and will be for some time) blanching and freezing seasonal foods, canning tomatoes for that unmatchable summer tomato taste, learning new skills to preserve foods at home and how to store items like local organic potatoes and apples. If approached with some grace in trying to learn a new thing, this kind of project can adjust to wherever you're at with time and space in your season, but connecting with our agrarian past and nature can be both sustainable and a way to find some intentional moments this fall. Try one thing and see where it goes!
If you've hung around our blog and sustainable stories on our social media channels long enough, you'll have heard this one! Leaving the leaves on your lawn at this time of year is a great way to free up some more time in your season but also provide a number of benefits ecologically. Many pollinators and insects (that are all in decline, which are needed for biodiversity and our local ecosystem health) require the leaf cover to hibernate. Leaves are also a great way to add to your soil health and a naturally compostable element. Nature has many beautiful systems that make incredible sense, and this is one of them! The leaves and plant matter dying at this time of year give back to the soil for further growth, and this aspect of the ecosystem supports the other living elements of the ecosystem with a shelter for hibernation so that they can return the next season to perform their own role in the system.
If this seems a bit scary (I know I felt extremely worried to do this the first time around, as growing up we spent more time working on our lawn than preserving that harvest I mentioned above, and that's pretty normal in our culture these days), consider putting up a little sign to explain what you are doing. It can definitely be hard to step out of the norm, especially at first, but you never know who else you may inspire to do the same! Sometimes there are many around us in our circle that want to change how things are but they also feel that same pressure to stay in our lane socially, and by trying to break out of that, we give others implicit permission to do the same.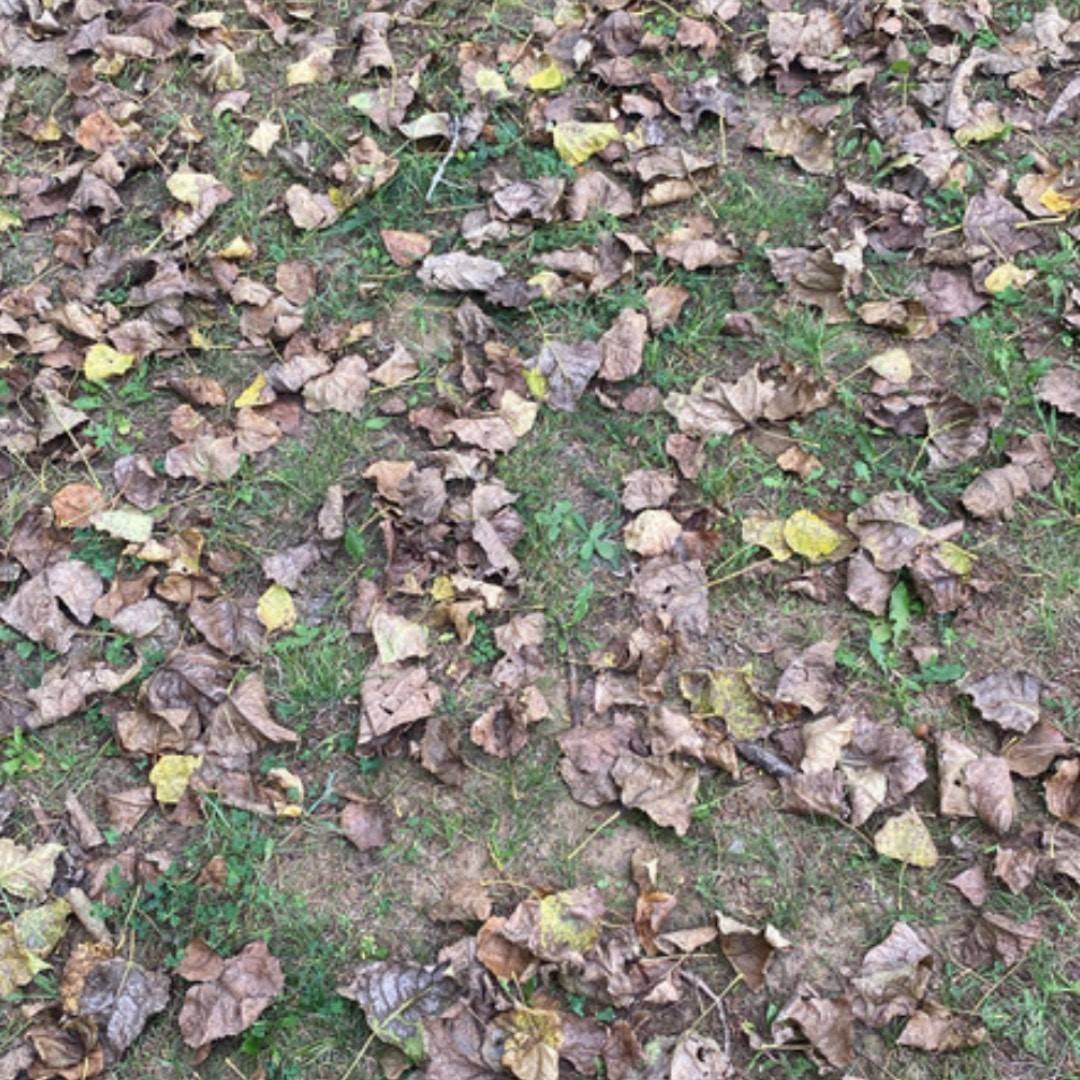 Allowing nature's natural system of decomposition can improve your soil and provide a habitat for overwintering insects, especially beneficial native pollinators.
3. Rethink Purchasing New + try Compostable Decor
It always seems that right after Canada Day ends, we begin to see the fall seasonal decor hit shops online and every store's front display area. Seasonal excitement is a cause for buying new things that we don't need; the anticipation of our favourite elements of a new season lies ahead, and people respond to preparing for that with spending in our consumer society. It can be so hard to resist! However, the majority of the seasonal decor that exists is trend based, not meant to last, not produced with sustainability in mind, and we already have created so much stuff that our planet is unable to manage the waste that exists. The majority of seasonal decor is made up of plastics, which are fossil fuel derived and have no real plan for their end of life, except breaking down slowly over centuries into microplastics. Fall mums are a good example of this seasonal trend decor that has a larger impact (beyond the typical examples of plastics and glitter based decor). The fall mum craze is a plant grown with a very short window of usefulness, shipped distances and requiring energy to create and distribute, while many are housed in virgin black plastics (which cannot be recycled) and tossed after they have died, rather than being planted.
The great thing about fall, though, is that there are a number of seasonal decor items that exist that are completely compostable! Pumpkins, gourds, dying grasses and corn stalks, leaves and fall flora are all compostable and interestingly enough, what the actual plastic fake decor is impersonating at this time of year. Choosing the items you can find in your area on a fall walk or at a local farm stand without excess packaging is a great way to shift to bringing in decor that is also intentional and sustainable. Finding them from a local producer or friend is ideal, as the plastic net bags of gourds and giant boxes of pumpkins in big box stores are often trucked quite a distance, increasing the carbon footprint of those items and decreasing the amount of money that goes directly to growers that aren't necessarily in your own community. Choosing one pumpkin at a pick your own rather than an armful at a big corporation for the same price will help you vote with your dollar for a more sustainable local economy, too!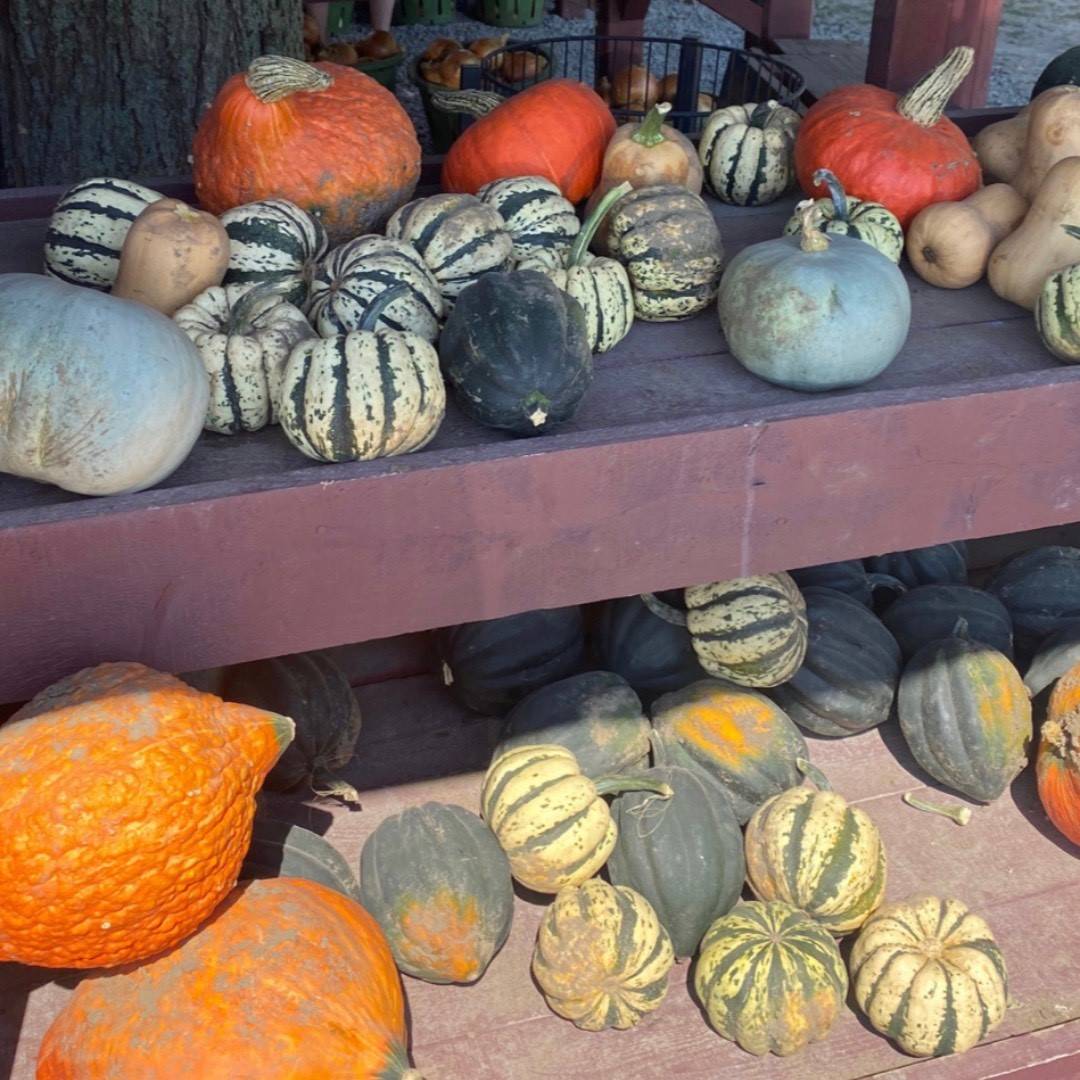 The harvest season brings an array of natural decor, sourced locally, without plastic waste.
4. Reflect on your Cozy Drink Routine
This time of year is a return to the warm drink rituals that flow through the coming winter months and are home to some really beautiful quiet moments of reflection in the day. Honestly, sometimes I think about my morning coffee ritual later in the day and can't wait for the next morning for those moments! This is a great time to consider those routines and set up some sustainable shifts. 
Depending on your routine and what you like to drink, there are some small things that can shift to add up to big impact over time, which is generally how these small changes work in terms of our daily habits. It can be incredible to make a small change and look back at the end of the year at just how much of an impact it makes, and starting with our daily habits means we can "stack" new habits into ones that already exist. For example, if I leave my multivitamin (a new routine I want to cultivate) beside my coffee pot (an ingrained habit), I can "stack" that habit onto one I already have, making it a lot easier to succeed. Taking a bit of time to figure out what to adjust in our routines up front can mean that they become things we don't even need to think about before long, and we are on the path to a lower impact life without much effort.
Drying summer herbs can help you reduce your impact and is simple to do! Most herbs and teas can be made at home by cutting, washing, and hanging them to dry.
Here are a few ideas for upgrading the warm drink routine:
1. In making coffee at home, can you shift away from Keurig style options that are very high waste, even to a drip coffee maker? Can you shift from a drip coffee maker to a pour over, French press, or Chemex style apparatus (the reasoning being one less bulky electronic to create or have enter the waste cycle later on)
2. Swapping away from a disposable filter is an option for many - we have stainless steel filters in our shop, but there are also many cloth options on the market, and they can also be found handmade. If switching from disposable is not quite an option, consider choosing an unbleached filter and compost it after use.
3. Refill your tea and coffee locally into your own packaging.
4. Choose fair-trade coffee or locally roasted coffee beans; if you can make it at home, this is more affordable than purchasing your coffee daily.
5. Check out The Ethical Bean's Terracycle program for coffee packaging. This program is free (sponsored by The Ethical Bean) and applies to any brand of coffee. Sign up for the program, collect bags (make sure they are washed out) and send them in when you've collected enough! The waste still exists, but this route is better than the landfill.
6. If you often buy your drink out and about, consider choosing a locally owned and independent shop in your community.
7. Many cafes will fill your own cup for a discount. Bringing along a cup can be cumbersome and a new routine to get used to, but worthwhile! I keep a cup in my car for delivery days and a cup in the shop for coffee pickups. It doesn't have to be perfect, just remind yourself that every time you do use it, you've saved a disposable from even needing to be made and enjoy that moment (as it can help motivate you further!). Can you keep a cup somewhere to support your routine without too much extra thought and planning?
8. Switch to loose leaf tea - this makes refiling simple, but it also helps avoid microplastics and bleach in your drink. Many cheap tea bags are made of plastic or bleached paper and once immersed in boiling water, will disperse these undesirable things. Investing in reusable cloth baggies or a tea strainer can assist with this routine (and a composter for the leaves afterward).
9. Try drying your own tea! We started this summer and this will help us save spending money on this item and also help us harvest from our own backyard. Drying is as simple as hanging the plant upside down and then breaking the bits of leaves (or flowers, depending on the plant) apart to store in a container. Echinacea is a native plant that assists pollinators that can be added easily to the garden (find it on sale or from a friend to plant this fall!) and dried into tea, and we have also tried mint, raspberry leaf and yarrow. Adding some dried apple or honey can sweeten your tea and keep it all very close to home.
5. Consider your Air Quality
This time of year is the beginning of a gradual shift to the indoors and a bit of a hibernation inside. Setting up your space in a thoughtful way for rest is something that is happening on so many levels through nature at this time, and a truly considered way to bring in the season. We bring out the blankets, add candles, books to the coffee table and bedside, and break out the recipe books. 
In turning towards the home though, it often means we end up getting less fresh air in our daily routine, but also circulating in from outdoors. Studies have shown that the air quality in our homes is the worst through the winter, as the windows are often shut with little fresh air entering the picture, but also because our modern lifestyles add to the toxins in the air that we breathe. Fall and winter can be a quieter time to begin considering some of the items we use in our homes that we may not be paying attention to the off-gassing (the release of chemicals during use of products or from new materials being manufactured) that occurs into our home environments, and we may find some more time in the darker evenings to set up some new daily routines or learn about what works best for us in the options that exist.
Shifting away from artificial fragrances in the candles we burn into the air, aerosol chemical mixtures we spray in the bathroom for "air freshening" (how ironic!) or personal care like dry shampoos, perfumes, hair sprays and chemical cleaners can make a significant difference over the coming months. While it can be a lot to consider at once, I always suggest going slowly to make sure shifts can be manageable and long term. Use up what already exists, and then make changes. If you're used to buying a big batch of heavily scented candles this time of year, aim to use up what you have and then try a beeswax candle, essential oil diffuser (it can be fun and easy to create seasonal scent blends like cinnamon and sweet orange), or an essential oil blend only candle. If you're currently using a spray in dry shampoo, use it up and then opt for a powdered option (we have a favourite in the refillery!) and learn how to use it to your preference. If you're currently using heavy chemical cleaners or bleach, learn about some alternative and slowly switch as you run out. Even swapping your dish tabs (as chlorine bleach and ammonia based tabs create a chemical cloud that wafts out of the dishwasher when you open it up) can make a big difference. Keep it simple in how you make changes, and go slowly. This shift can have numerous health benefits for anyone living in your home, but also create more sustainable routines in everyday life.
6. Plan ahead for Sustainable Successes
Sometimes, sustainable options aren't really too tough to figure out and work just the same as the more conventional, wasteful option for the thing, like if we were switching from a styrofoam disposable plate to a bamboo or unbleached paper plate. In these instances, the difference is usually just cost, making the sustainable option more expensive, but there isn't really a significant catch in how you need to learn to use the thing or do the thing differently to get started with it.
In other cases, it involves removing the convenience aspect of the conventional way of doing things to make it less wasteful. This is usually where learning the old way of doing a thing, finding and learning a new skill, taking the longer route around, or putting in the extra effort arises. While this might sound like a drag, it has been the most meaningful part of my own journey towards less impactful living; it is where the good stuff comes in. This is where the intention is, the taking pride in something small, learning to appreciate the little simple things, and learning to do by doing. I cannot promote it enough for positive mental health in the daily grind, where sometimes convenience gives way to less connected living. While it might not be reasonable to do all of the things all of the time, some of them really make moments more meaningful and can even save some money!
One of these things, that I am constantly getting organized ahead of time, is thrifting. Thrifting makes sense in that it is using up what already exists rather than consuming new resources and creating further waste cycle items, but it definitely takes more time. This time of year I am looking ahead at Halloween and Christmas and making progress towards buying second hand. We have managed to find some of the Mario and Luigi costumes that our sons have requested for Halloween, and will be on the hunt for some overalls and green felt in thrift shops in the next little bit to finish these up. I also am going to try my best to thrift the majority of our Christmas gifts and traditions this year, so will steadily work on that. It will take more time for sure, but will help our family spread out the cost (which will also be lessened this route). While it is more energy, I will look forward to the feeling I will have on those holidays - more content and far less anxiety about how wasteful and brand new plastic-based those days have been in the past.
Celebrate the season with festive food instead of plastics. There are many vegan and palm oil free seasonal treats available package free locally.
What is up ahead for yourself, for your family that you can plan ahead for to make more sustainable? We have many family members that are also happy to accept second hand gifts for birthdays, so looking ahead can help you find a perfect gift. It might be a good time to let family know you'd love a second hand gift this year for an upcoming holiday, collect some ideas if they are game for a second hand gift swap, or just start a conversation about it all. Looking ahead can help you plan a rental or second hand option for a wedding event, holiday sweater, or costume you may need. And, on the flip side, you might have items that can be donated or sold for the upcoming season so that they can be used by someone else - a costume, winter outerwear, gift worthy toys that aren't played with, or maybe some bigger ticket items you no longer use that can be passed along, etc. This season can bring a bit more time in the evening for decluttering that the fun and busy-ness of summer can help us ignore!
7. Slow Shifts in Fashion
Fall is the biggest fashion season of the year! It can be very tempting to buy a new jacket, set of boots, hat, tracksuit - whatever the thing, this is usually the time of year to get it and match the current trends emerging. While I mention thrifting in the idea above, this can apply to your fall wardrobe as well, and our local downtown has so many amazing curated thrift and consignment clothing shops.
The other idea in this space is to begin considering the concept of investing in fewer, better, quality options for this season. Fall and winter bring along some heavier duty, more expensive items in Canada; we need heavier coats for different weather we experience, snow pants, waterproof boots, slippers, and layers. Having better quality items is sustainable in that we are buying new less often, relying on new resources less often, and if it doesn't work out, we can sell or pass along that item for someone else to use because it has the capacity to do so. It can be tougher to achieve, however, because we live in such an intense consumer culture. Even our outerwear is subject to trend based clothing, and sales and marketing have us spending to have a variety of options to create different "fits" and "looks" and "personal style." While I definitely believe in personal style, I'm not sure we have to always own everything all the time to constantly be presenting new and fresh looks to the world and it might not be necessary to showcase an ability to spend energy on keeping up with the most current way to combine all the things properly at all times.
While it can be amazing and fun to put together different creative looks and express personal style, I am going to advocate for anyone out there (that might just be waiting for permission to drop these social expectations) that needs to hear that it's okay to have one winter coat, simpler clothing, more basic colours and wearing those items in the same combination over and over again. You're not only not needing to consume as many resources, but you can likely have nicer things in spending less often.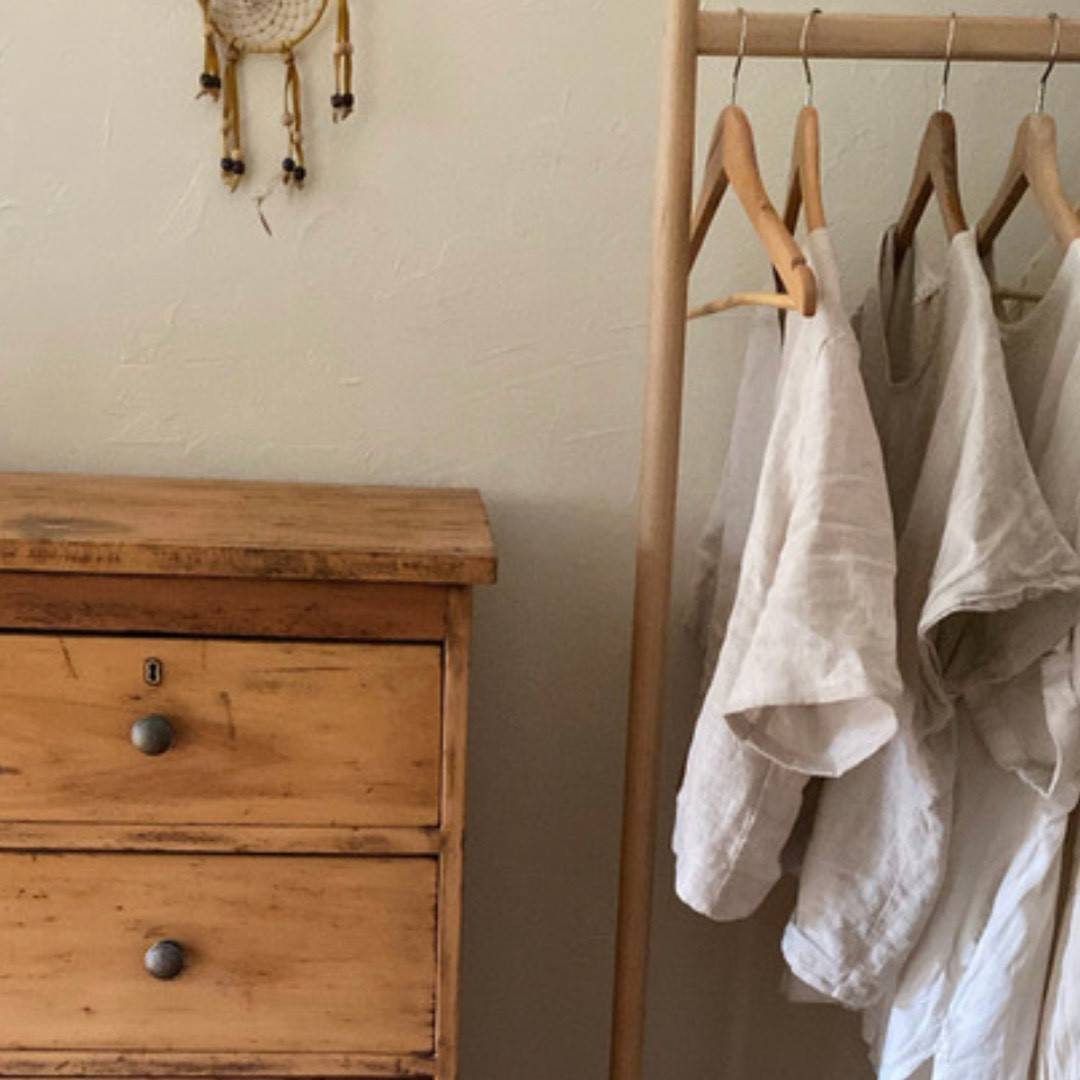 Slowing consumption down can allow you to spend the same amount on fewer items, made to last, without the impact of fast fashion.
If this sounds like something you're into but seems overwhelming at first, try slowly picking items to invest in each year. Maybe one year it's the winter coat, another year a waterproof boot that can do all the things, and yet another year, a handmade toque or cardigan with some wool sourced transparently. Slow it down, choose wisely and in a well thought out manner for your life and your needs and preferences, and hop out of the fast consumer culture that is fashion. And in the meantime? Look at your closet and see what you can sell and pass along in order to fund those investments!
It can definitely be overwhelming to consider how much needs to change for our society to get our waste and our consumption under control. Looking around our homes, it can be wild to figure out how we got where we are and confusing to determine how to reel it back, because it seems everything has been taken over with plastics, convenience, and constant spending and buying. In so many ways, it feels easier to check out. But, overall, it never ends up feeling better long term. It is always worth the work to step towards more conscious choices - a feeling that we are in control of our own lives, where this future is heading, and fostering a connection to nature and the land that doesn't exist in most things capitalism has us grounded in right now. So, if this feels like too much, just choose one thing. Swap the coffee routine for a reusable cup on week; order a local turkey ahead of time in just a few minutes of your time. Declutter the Halloween costumes that have built up, or your coat closet, or your sweater drawer, ahead of those seasons so that others can use them. I always find the momentum of trying one new step can create a string of positive changes, and I hope that by taking one forward can help you be motivated this fall season, too!
Harlowe Green
Indepedent + locally owned refillery
Where: 90 Brock Street, Kingston, Ontario 
 A farm girl and graduate from the University of Guelph, Ange is a nature lover and environmental activist. A local entrepreneur, she's interested in re-learning old ways that are more in tune and connected with the Earth. As a mom to two wild little boys, she shares their behind-the-scenes family journey to low-waste living in a rural area outside of Kingston on her social media and blog, Zero Waste Adventures.