Dive into Something in the Water
When spending a night on the town with friends or just grabbing a bite for yourself, you're not likely to find anything better than the classic combination of cold beers and fresh sandwiches. Within Kingston's booming craft beer scene and endless supply of culinary opportunities, Something in the Water Brewing Co. stands out to me as a truly refreshing experience.
The first thing you'll see when you walk in the taproom is the company motto, "Curious People Drink Curious Beers" 
I got the chance to chat with members of the Something in the Water team to learn more about the curious story of this curious beverage company and dig into the details of their new in-house sandwich shop.
Co-founded by Steve Waugh, Mike Lee, and Rick Tanton back in March 2020, the Something in the Water journey began with their first beverage, the Lee River Blackberry Vanilla Sour. Two years later their flagship brewery and taproom opened in Toronto's Liberty Village, followed by a second location opening right here in the heart of downtown Kingston. This October marks one year of business in Kingston and General Manager, Bailey Jewitt, shared with me how Something in the Water and its community has grown together these past 12 months.
Before Something in the Water came to Kingston their location at 275 Princess Street was home to another brewery, Stone City Ales. Bailey, who had been with Stone City before the transition, shared that the merge from Stone City to Something the Water was very seamless with many of the staff remaining and keeping their distinct creativity and passion with them as well as the current audience of regulars. "We shared a lot of the same ethos and values," explains Bailey, "I think at first there was some hesitation because people in Kingston, and I love this about the community, are very in tune with what they know. It was funny because after a couple of weeks, suddenly every regular was back."
It became clear to me early on, that the heart of Something in the Water is the dedicated team of individuals with a shared passion for craft beer, delicious food, and the city they work and live in. No matter the time of day, their desire to make every new and returning customer feel at home is palpable.
"I'm so so grateful for the staff that are here because not only do they treat it like their home, they treat it like their own. Everybody's kind of looking out for each other and we all take care of it together," shares Bailey. As a regular, you'll likely get to know the team by name and can even guess who is working that day based on the music playing over the speakers. And their passion doesn't stop at the bar and kitchen; it extends to how they tap into the community through exciting events and supporting the causes closest to them.
No matter how you enjoy yourself on a night out or a lunch break there's something for everyone at the Something in the Water taproom. Crush the competition at weekly trivia nights. Support a good cause with specialty brews and charity concerts. Cuddle with the cutest kittens and pups from the Humane Society. Sing at the top of your lungs at karaoke and dance the night away with Kingston's fiercest drag queens. Or stretch it out with some Brewga! Yoga and beer is not a combination I would have thought of but it's one I needed in my life!
And that's just to name a few. I highly recommend following Something in the Water on Instagram to stay up to date on all the fun events, community initiatives and new brews they have planned.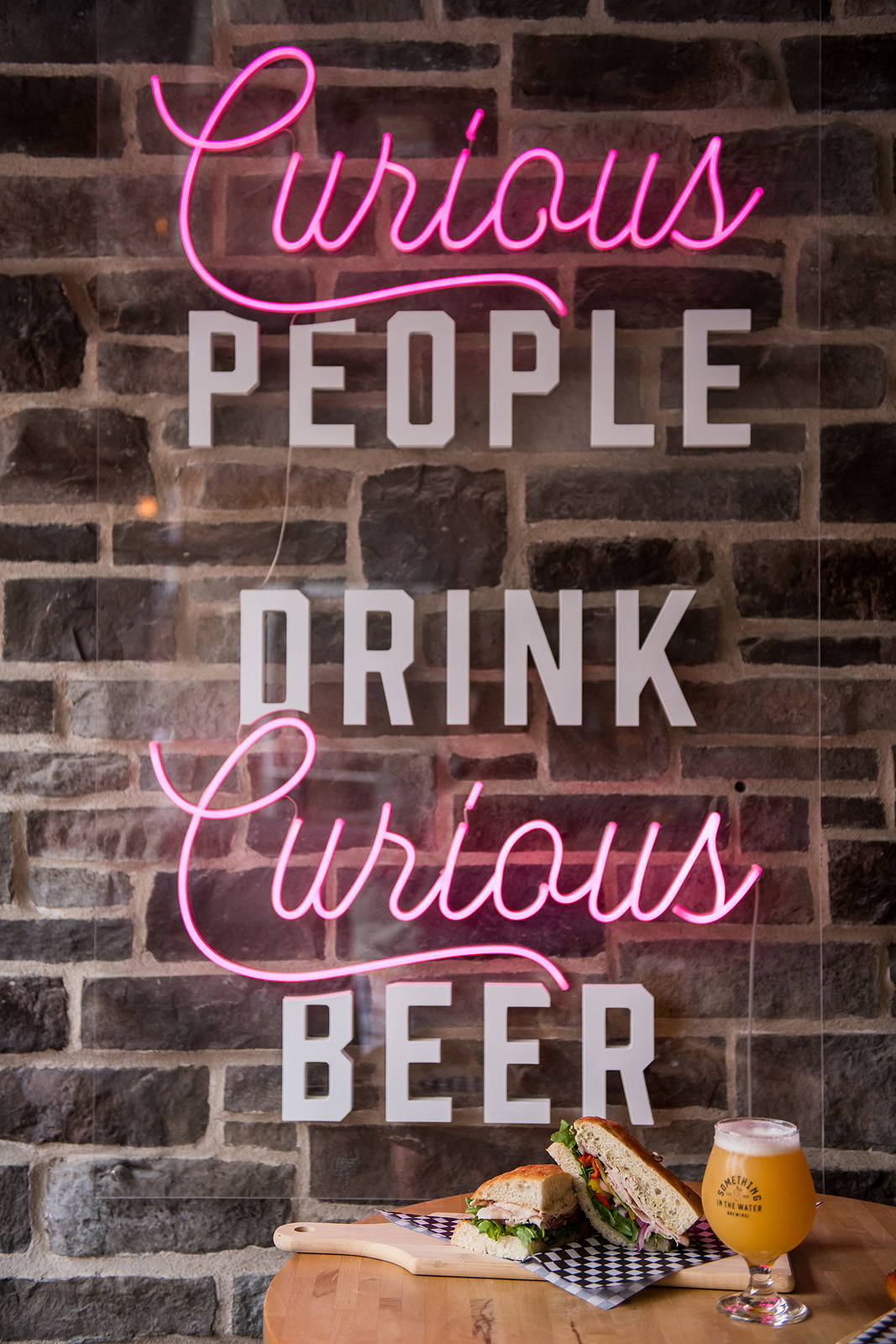 Now let's dig into the delicious details of Something in the Water's pride and joy, the brewery, and their new in-house sandwich shop, shall we? 
Jason, the head brewer for Something in the Water Kingston gave me some insider knowledge of the process of creating these curious beers. With recipes from their production manager as well as his own recipes, the process begins with gathering the right grains, figuring out the right hops for the perfect aroma and bitterness, and mapping out the distinct flavour profiles of each brew. The creativity of the brew team seems endless with their plan to release a new brew almost every Friday!
Fun Fact! Something in the Water donates all their leftover grains from their brewery to a farm in the region so nothing goes to waste.
Another Fun Fact! Brewing beer requires a lot of water which is one reason why 5 cents from every can purchased supports clean water across Canada. This portion of sales goes to Swim Drink Fish, a non-profit that has worked tirelessly to connect people with swimmable, drinkable and fishable water.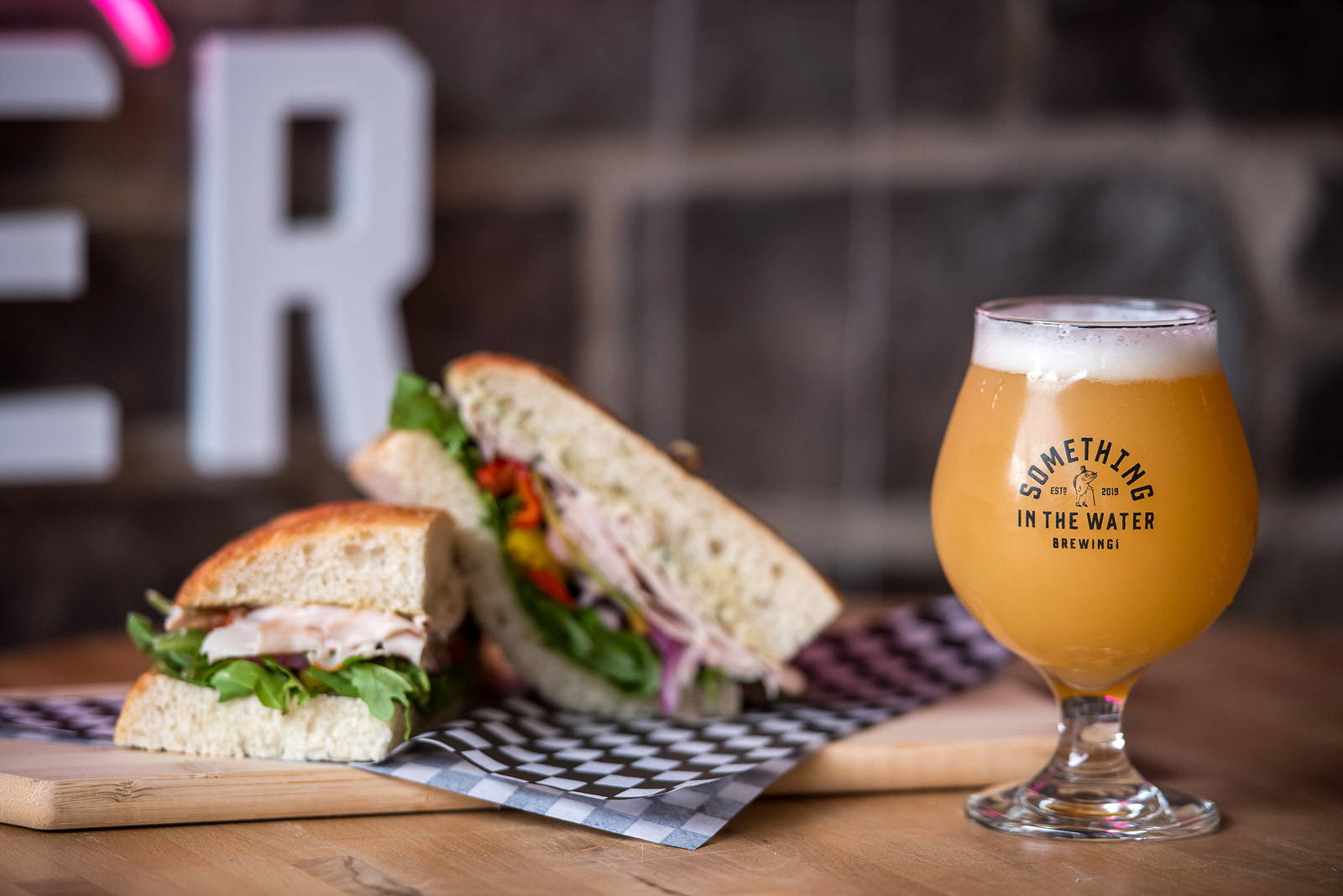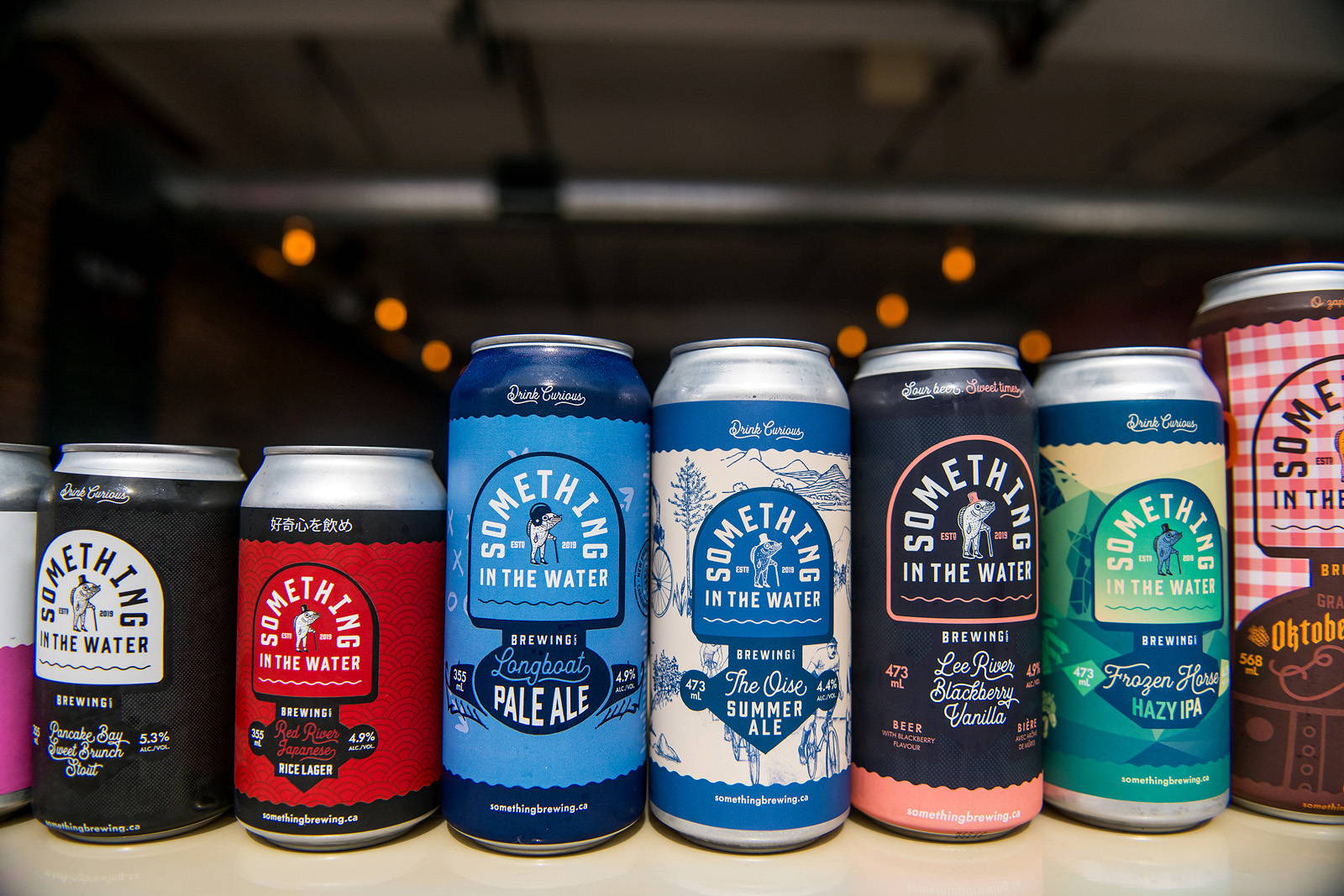 The perfect pairing for any brew is a savoury sando and Something in the Water has got your cravings covered all day long with their freshly made artisanal sandwiches. With the masterful work of their sandwich artists and deliciously affordable prices, the Something in the Water team is filling the gap for reasonably priced hearty, freshly made lunches and plans to be the go-to spot for Grab-and-Go sandos.
Take a Bite!
The Amalfi: Mortadella sausage, pistachio cream, gorgonzola, with lemon zest and arugula between their made in-house Foccacia bread.
The Calabria: Soppressata, mortadella, provolone, bomba di Calabria, Calabrian hot honey, arugula, and juicy tomatoes, sandwiched between two pieces of fresh Foccacia
The Liberty (staff fav!): Tender turkey, provolone, arugula, juicy beefsteak tomato, red onion, zesty pickles, hot peppers and an avocado basil cream sandwiched between their house-made Focaccia. Pairs perfectly with an IPA!
The Parma: Prosciutto, soppressata, fresh mozza, fig jam, balsamic glaze, arugula, and hot peppers in between two pieces of thick-cut rosemary Foccacia
The Rivière: Brie cheese, pesto cream, sweet wildflower honey, pistachio, lemon zest, and arugula held together with, you guessed it, house-made Foccacia.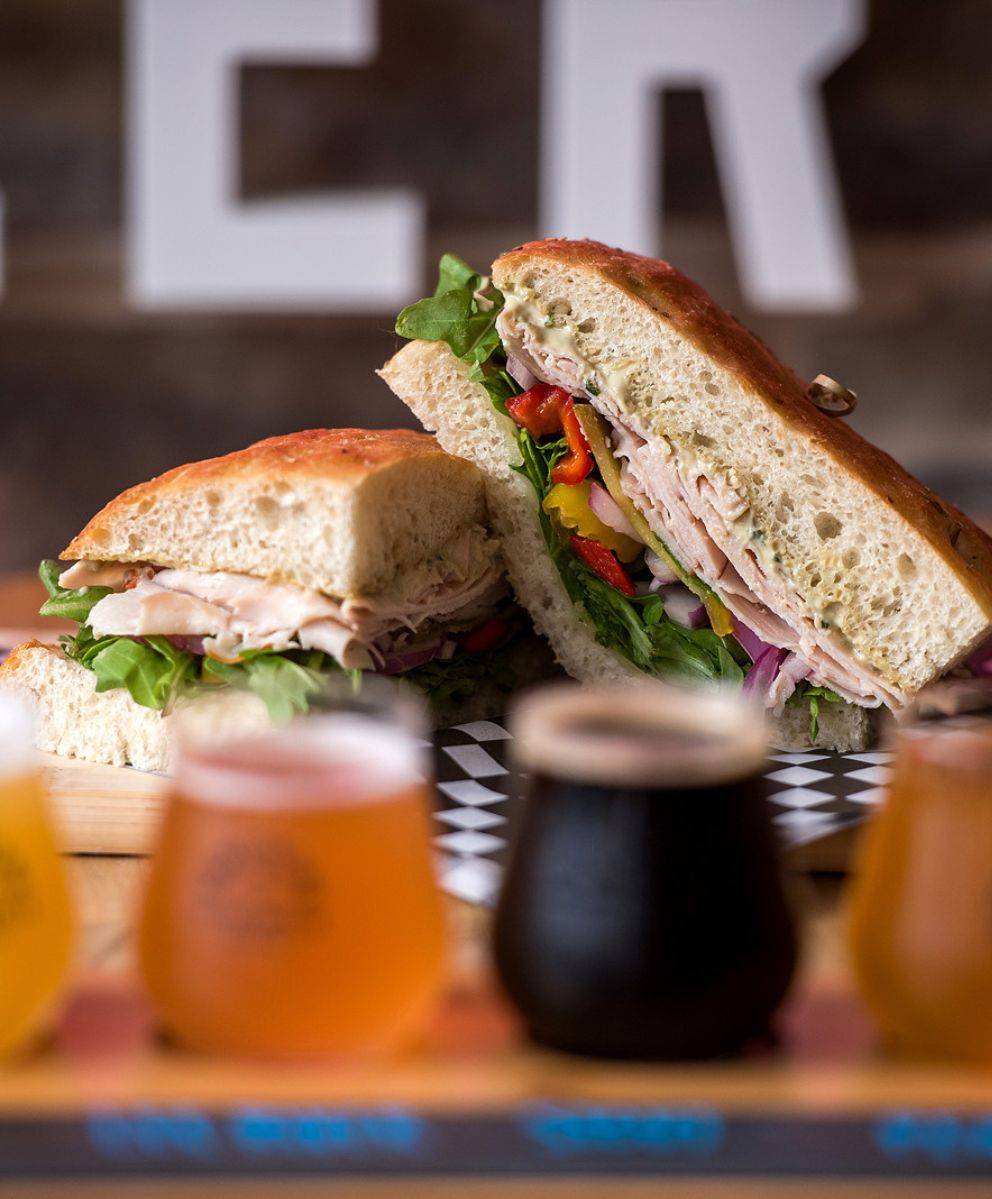 Lee River Blackberry Vanilla Sour - Fruited: The brew that started it all! This is an absolute must-try not just because of its significance but for its perfect balance of sweet and sour made with real blackberries and real Madagascar Bourbon Vanilla Pod.
Reservoir Series: Crystal Lake Pale Ale Pale Ale - American: Kingston brewer, Jason, designed this recipe from top to bottom and it's a refreshingly, delicious brew with a name inspired by his favourite horror movie. This border-free Pale Ale is citrusy with a tasty peach flavour hopped with Cascade, Michigan Chinook, and Motueka.
Atlantic Kon-Tiki Painkiller IPA - Milkshake: Painkiller, the popular Tiki cocktail is now in beer form with the distinct Something in the Water flare. Even those who dont love beer will adore the sweet taste of orange, pineapple, coconut cream, and the experimental hop that creates a unique rum twist.
If you're like me and beer is not usually your drink of choice dont worry there's still a place for you here. Something in the Water has plenty of cocktails, spirits and non-alcoholic sips to savour with a satisfying snack. I highly recommend The Mermaid cocktail mostly because it's delicious but also because it has edible glitter!
Since you're probably super thirsty and hungry after all this reading don't hesitate to dive into the deep end of Something in the Water Brewing Co.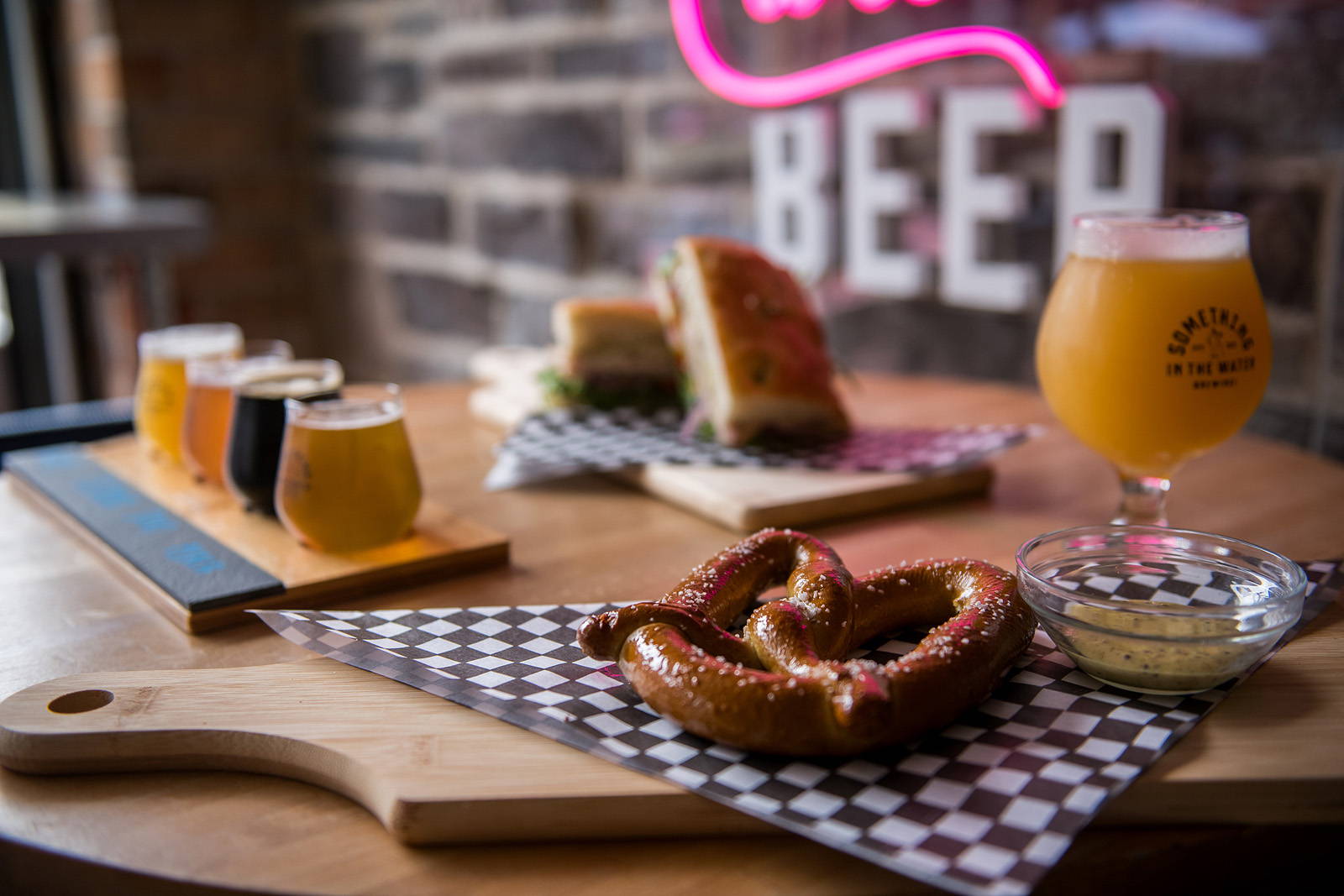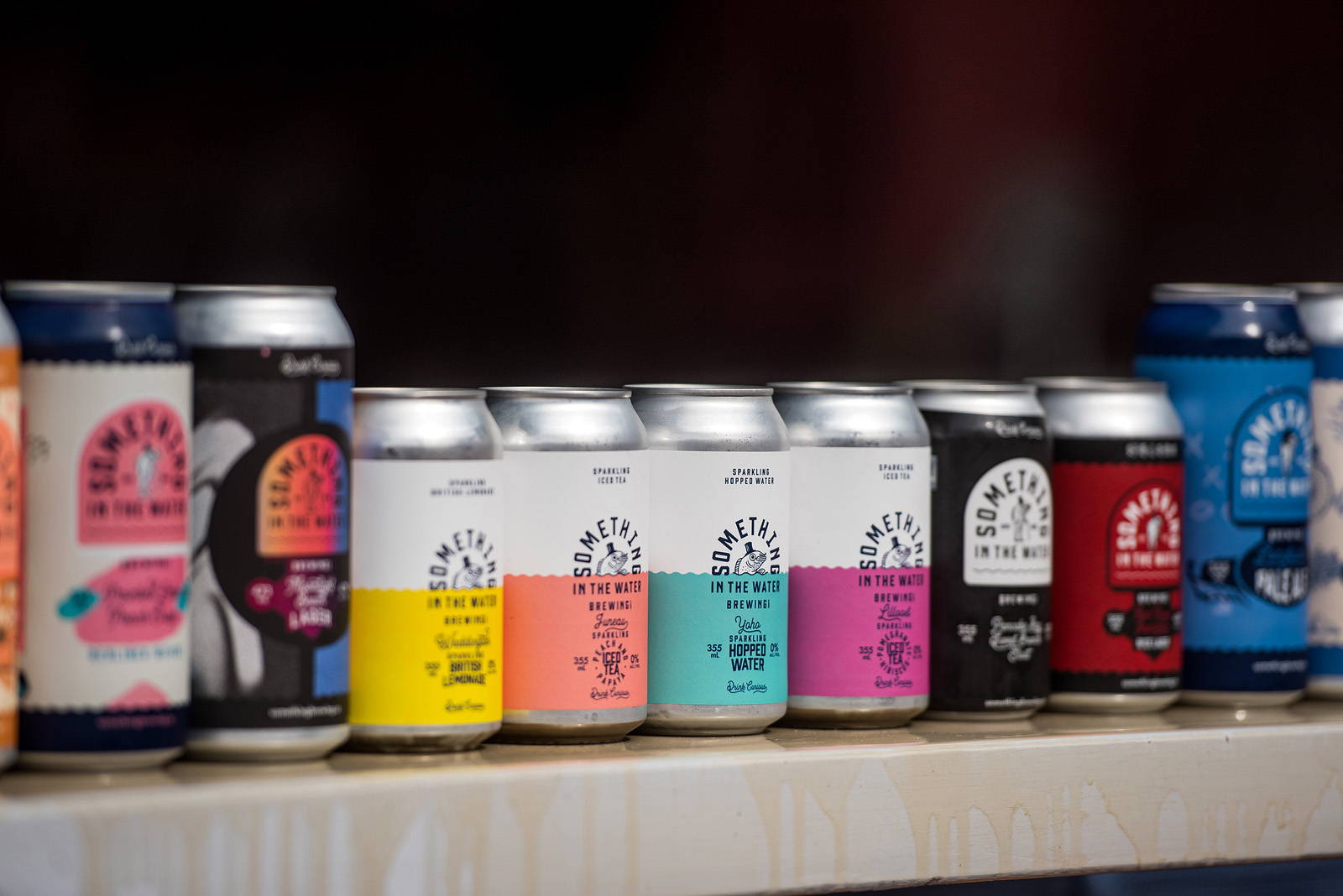 Something in the Water
Curious People Drink Curious Beer
Where: 275 Princess Street, Kingston, ON
Marketing and Communications Producer for Downtown Kingston