Unlock the joy of gifting with us! Be among the first 250 people to purchase a gift card up to $50 and enjoy an extra $20 dollars in your gift card.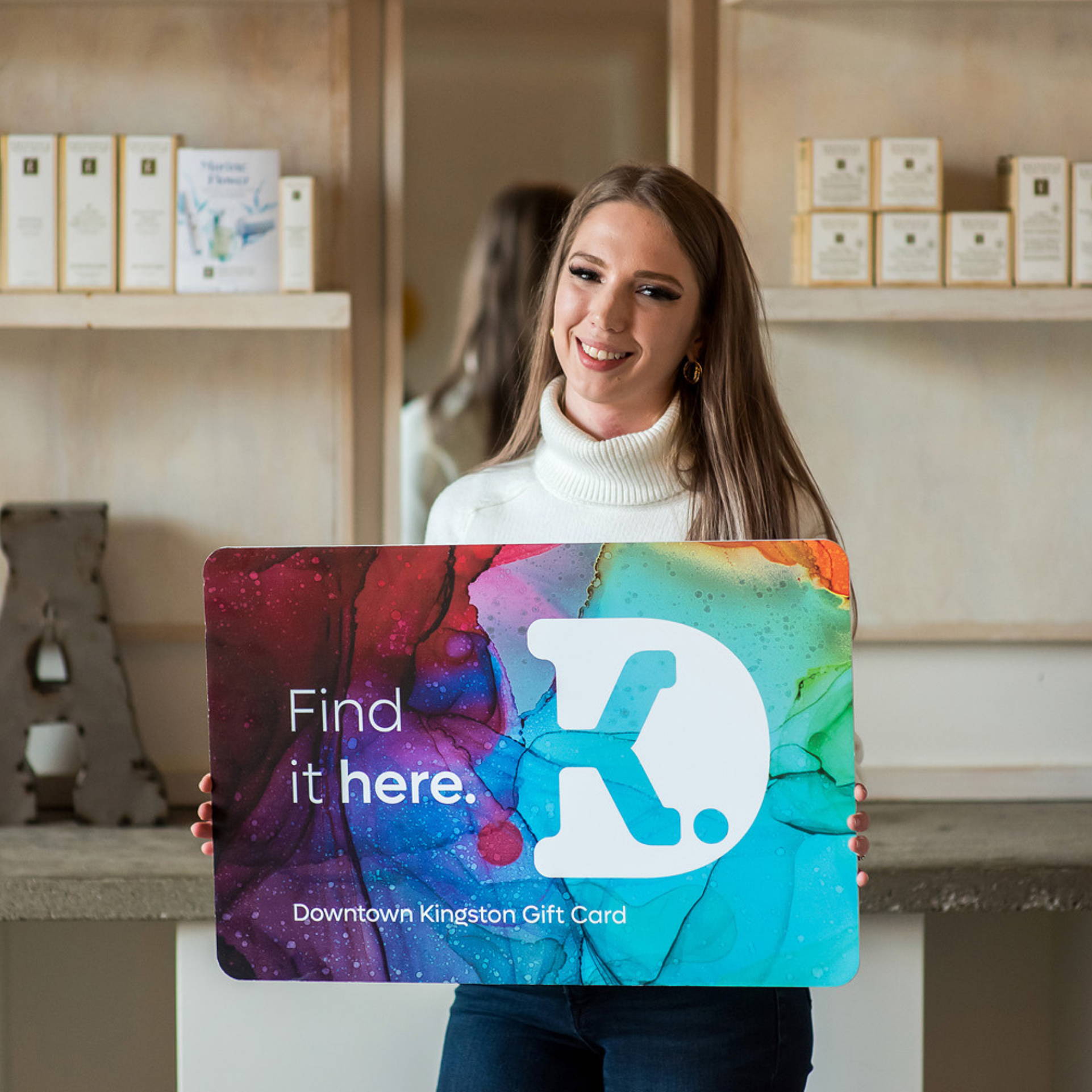 Choose between pick up your gift card for gifting occasions or get your card by post and send it either to you or directly to your loved ones.
Buying as a gift? Personalize your Downtown Kingston Gift Card and mail it straight to the recipient with a gift message from you. Show your love!
Use them for yourself or anyone who could use a little fun. Cafes, restaurants, salons or spa, get ready to spend your Downtown Gift Card.
For a frequently updated list of participating businesses where you can spend your Downtown Kingston gift card check out the list below:
Gift cards will be delivered by Standard Canada Post.
Is there a problem with your order?
You can reach by calling +1 438-940-9247
or emailing at orders@downtowngiftcards.ca
Purchase in-person or pick up your card within 2-3 business days at the following location:
Where:
353 King St E, Suite 200, Kingston, ON.
Office hours:
Monday through Thursday, 8:30 am to 4:30 pm
Fridays 8:30 am to 4:00 pm
How can I check my gift card balance?
To check the balance on your Downtown Kingston gift card you will need the 16 digit card number & the 6 digit Security Code, located on the back of the card. When ready you can call 1-800-755-8606 or click on the following bottom to check it:
Does my gift card expire?
Your Downtown Kingston gift card does not expire. You can shop whenever you'd like!
What happens if I have Downtown Dollars?
Your Downtown Dollars are still good, they do not expire. You can use them whenever you'd like!
Do all stores in Downtown Kingston accept my gift card?
Not all businesses, but more and more are joining the program every day. For an updated list of participating businesses visit the link below:
Can my gift card be used online as well as in-person?
Businesses can accept the Downtown Kingston gift card only in-person.
Is my gift card reloadable?
The Downtown Kingston gift card is NOT reloadable. A new card must be purchased.